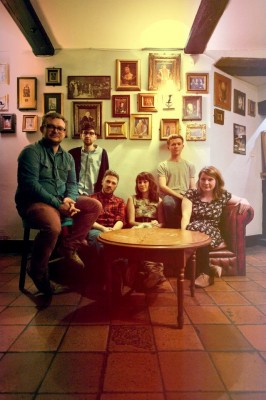 The brilliant Boat to Row featured on our charity Christmas album For Folk's Sake It's Christmas 2012 and their EP Loyal Light is out now. We asked them to give us the low down on the record and here's what they said…
Mike: For me, lyrically speaking, each song has its own time and place on the EP. Sometimes I write with an idea or concept in mind; something I've seen, witnessed, read about or heard. On the other hand, a lot of my songs stem from things that are quite personal to me.
Although the EP doesn't have a strict theme or concept, it contains a balance of brighter and darker tracks, both lyrically and musically. The title track 'Loyal Light' and 'Dreaming Wild Flowers' have quite an obvious, upbeat, 'spring in their step', whereas in 'Ode to Work A Day' and 'Old Scenes' the mood shifts to something more sombre. It's kind of weird to talk about your own music as, although everyone says it, you really do want your songs to speak for themselves.
This EP found us exploring what we felt to be a more serious sound and greater lyrical depth. Our live sound isn't as dainty as some of our past recordings may suggest and the songs we are currently writing are taking us in a different and exciting direction! The past three years or so of writing, touring and getting a bit older have naturally helped us to grow and develop in this way, whilst retaining some of the original elements that characterised our style. We can't wait for people to hear where we are right now.
We are really lucky to work with Rosie Moss on the artwork for this release. We've worked with Rose on the majority of our releases and I really feel she captures a lot of who we are in the artwork she creates.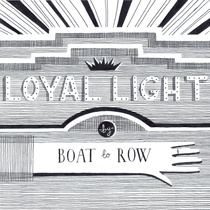 Ben: We recorded 'Loyal Light' in Nuneaton at our friend Craig Thorneycroft's studio. We love recording with Craig as he's a friend of ours from back when we all first met in college and he's recorded every release of ours so far. He's really grown with us as a band, improving every time we go back and he's really helpful when it comes to taking a new approach to recording or with arrangement ideas. He has a ridiculous sense of humour so we always have fun and he works really hard to get the best out of his studio for us.
We recorded the EP from between Easter to the end of summer in our time off from playing shows and festivals. It was pretty hectic fitting everything in; we're lucky to have understanding bosses when it came to getting the time off for everything! We're really down to earth about the band. We fit it in around working full time jobs and are quite realistic about what we can achieve in our current position. We've all grown up in different musical backgrounds, with Mike and I playing in bands with a punk/DIY ethic when we were younger. Although we obviously have different musical influences these days, the attitude of that scene has stuck with us.
We do as much as we can off our own back and even though we have limited resources, we stretch them as far as we can and get the most out of them. Just read the book 'Our Band Could Be Your Life' and you'll always have that DIY attitude in mind!
I think that playing the tracks live a lot whilst recording them really helped us with the process. If things weren't working live, we really got stuck into them before going back into the studio to iron out any issues. When we went in to record this EP we wanted to make sure it represented what we heard on stage at shows. We'd grown in size, members and sound, and we wanted the songs to reflect this. In the past we'd been quite generous with overdubs and extra parts, but this time we worked really hard on the arrangements before we went in so we knew what worked best for the track.
All the tracks have at least two arrangements. One is completely acoustic and some of the songs went through quite a long formation process. For example, we wrote 'Freedom' around about a year before recording it. We played it live and at practice, seeing what worked and changing the instrumentation and the harmonies until we had something we were happy with. We also felt like we'd been too clinical with our takes in the past. When we were recording, we decided that we would all be in the studio so that if a take felt good to the rest of the group, it stayed even if there were slight mistakes. The studio is a converted garage so although we couldn't get a proper live sound we wanted to get as close as we could.
It'd be nice to mention some of the additional musicians that played on this, as they added so much. Violin duty was shared by Elizabeth Poole and Faye Haddon who are both superb players, as well as Emma Geddes and Lloyd Miller on brass and percussion, who were both in the band at the time.