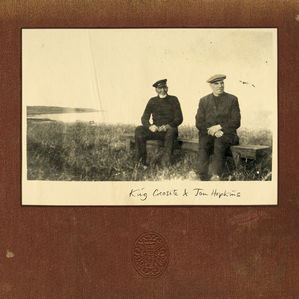 King Creosote says he might never put another record out in a physical form. His last few albums have been released in many an unconventional format, from those available to buy at gigs only, to one only available to record at a gig – at a recent Fence Homegame, you weren't allowed into his gig unless you brought some kind of device to record his latest offering,
Thank God then that we have his collaboration with predominantly electro musician Jon Hopkins to remember him by.
Diamond Mine is a gorgeous album, but blink and you'll miss it. I'm sure it's KC's shortest yet, running at less than half an hour in total. But what it's lacking in length, it makes up for in sheer beauty. Kenny Anderson's soft Fife tones are understated and swim effortlessly over Hopkin's backing, a blend of minimalist electric, atmospheric fuzz and Scottish cafe. It makes for an interesting collaboration and another bow to the many sounds and styles of King Creosote.
'Bats in the Attic' is one of the most conventional songs on the album, but conventional is by no means dull. It's simplicity in melody and Kenny's sweet singing harks back to his Bombshell days. While KC says the pull of commercial record labels and production got the better of him back then, Bombshell still remains his most successful album and, without a doubt, opened the doors to many to Kenny's sensational blend of folk and alternative pop. There's most definitely nothing to be ashamed of there.
The rest of the album flits between this curb of 'conventional' and something a little more unusual. But whatever pigeon hole you try and stuff it in, what this album really gives is beautiful folk songs showing off the finest, bone-achingly gorgeous vocals of Kenny Anderson, superb writing and a production that pulls it all together and pushes it over the edge of the safe haven many other alternative folk groups sit. The result is truly stunning.
Words: Gemma Hampson