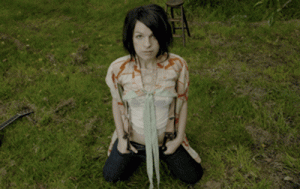 In a cramped, sweaty bunker of a venue, Jesca Hoop is serenity itself, charming an attentive Leeds crowd with a hypnotic set of her eclectic but distinctive melodies.
The little arched attic at the top of the Cockpit ought to be a challenge: sweaty in the early spring warmth, noisy from the drinkers in the bar below, and shaken, occasionally, by trains passing above.
In fact, it feels exactly how a gig should.  Jesca describes it as a bomb shelter, and perhaps that lends an intimacy to proceedings – a togetherness to the crowd – which play into her hands. Her performance is all about intimacy, from the delicate and deliberate tunes which have become her calling card, to her confessional and conspiratorial on-stage chat.
She draws on her back catalogue throughout the set: from her first ever release, through her (as yet) only album, to her latest Snowglobe EP, and beyond to new material, some of which she is playing for the first time. But the quality never alters.
With Jesca, her guitar and her friend Becky providing backing vocals, the sound is rich and pure, but also raw and urgent. This comes to the fore in 'Whispering Light', given extra emotional punch by the story of its inception, springing from a long chat with her terminally ill mother, which Jesca tells unflinchingly beforehand.
Hoop also has a rare willingness to subtly change her vocal style.  She becomes playful for 'Four Dreams', which has a childlike feel to it, but oozes breathy maturity for 'City Bird', a song of urban unease.
At the end, Jesca invites us to go and see her perform in Manchester later in the week, when she will have her full band – but in truth, it's hard to imagine her songs sounding any more complete than they did here, in a sweaty bunker in Leeds.
Ali Mason