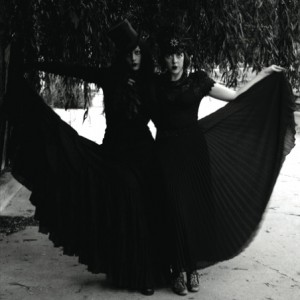 I was first made aware of Katie Stelmanis through her work with Canadian wonders Bruce Peninsula. Stelmanis now goes under the name of Austra, a project that sees her powerful vocal talent given an electronic twist.
'Beat and the Pulse' is as addictive as they come from, its dark overtones complementing Stelmanis' voice beautifully. The two versions available, extended or radio edit, provide different approaches to the track's opening, but ultimately, the title track of this E.P triumphs.
Listening to the additional tracks on the E.P, you're given the reassurance that Austra isn't a one trick pony. 'Energy' is fast becoming a personal favourite, over-taking even the brilliance of 'Beat and the Pulse'. Its tempered instrumental atmosphere is given a steady rise and a contrasting sense of passion by Stelmanis' soulful voice. 'Young & Gay' finds itself on a middle ground between the two preceding tracks, its chorus acting as its most effective component.
Still relatively unknown, Austra is an extremely exciting project. besides this E.P, I'd also recommend the version of Roy Orbison's 'Crying' that's on Austra's myspace as I write this. Stelmanis' voice catapults the classic track into a heart-wrenching, modern context, and, like the best covers, makes your appreciate the original tenfold.
Words: Mary Machin