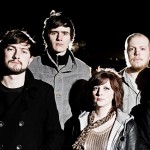 Admiral Fallow – These Barren Years
Somehow managing to please both nu-folkies and drive-time rock lovers, Admiral Fallow's new single sings of life in Scottish schools with all the brashness, insecurities and melancholy that come with such a package. "Line up the punch lines till the class cracks up/You keep your head low, till the pressure's stopped." Although it's feet are firmly planted in somewhat gray reality, I found These Barren Lands frequently prodded my escapism buttons. Incorporating the clarinet, flute and stand-up double bass into your live set certainly produces more flavour for your fare from the tired formula of 'typical indie sound.' A euphoric track even? "And we'll sing/Grow old with me (we'll share the pitfalls)/We'll fill the sea (answer the cat calls)/We'll watch the world (fall from the inside)". Not quite, but a very encouraging sign of things to come from the Scottish quintet.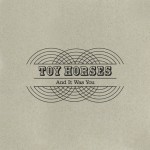 Toy Horses – And It Was You (Albino Sparrow)
With And It Was You Toy Horses bring us a fine slice of happy, uplifting sophisticated pop. They may be an unusual pairing – Adam Franklin formed the band with his stepdad – but you cannot argue with the results. Their catchy melodies have been given a flourish from Wilco's Ken Croomer, who produces and plays on this string-laden record. There's potential here for a lot of radio crossover, and Toy Horses could go far.
.
Dry The River – New Ceremony (Transgressive)
I'll admit, my first reaction was shock. The last time I heard Dry The River, it was the gentle Americana of the Bible Belt EP. Expecting something similar, I stuck on New Ceremony to be confronted with something very different indeed on their debut release for Transgressive. Building from a simple but sharp guitar lick and Pete Liddle's already familiar falsetto voice, the track quickly evolves into a stark new sound with a poweful chorus. The band worked with James Kenosha on this, and he clearly brought along his playbook from previous sessions with the Grammatics as layers of strings are added to give the sound some real force.
Words: Admiral Fallow by Michael Somerville, Toy Horses and Dry The River by Ian Parker