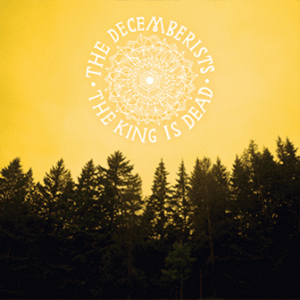 The King is Dead heralds its arrival in triumphant form with harmonica sounding out over a marching rhythm before Colin Meloy's voice decrees "the turning of the season". 'Don't Carry It All' is a rallying cry and an instant statement that on their latest album The Decemberists are back to doing what they do best – powerfully structured songs born out of carefully balanced layers of vocals, instrumentation and Meloy's lyricism.
With The Decemberists having long demonstrated a devotion to ye olde folke of the British Isles, The King is Dead could be a (albeit slightly inaccurate) statement of intent in itself, as the influences on this record are far more firmly rooted in the land of its birth than in any other tradition. 'All Arise' is full of barn-floor swagger with its plucked strings and hint of piano, while 'Rox in the Box' returns to a pure folk tradition, combining traditional melody and instrumentation with a tale of work and exploitation on the "Granite Mountain Mine". Gillian Welch lends her voice across the album and the resulting duets and harmonies leave a stamp of classic country, perhaps most strikingly on 'Rise to Me'.
With the album recorded in a Oregon barn it is hardly surprising that the lyrics are heavily pastoral, reflecting the iconic expanse of nature of the frontier. Yet there is another American strand to The King is Dead which finds its roots neither in Nashville nor folk troubadours, but in rock icons hailing from Athens, Georgia. R.E.M guitarist Peter Buck guests on three tracks, infusing Meloy's songs with his distinct style and adding to the slightly disconcerting familiarity of 'Calamity Song' and 'Down by the Water'.
This is a remarkably coherent and accomplished record with much to recognise The Decemberists we have come to know and love: whether it is Meloy's inimitable voice; the richness of his imagery, such as in 'June Hymn' where "The thrushes bleating battle with the wrens/Disrupts my reverie again"; or the way the songs build to the point where words fail and a swell of harmonica, pedal-steel and fiddles take their place. The King is Dead is a delight. Long live The Decemberists!