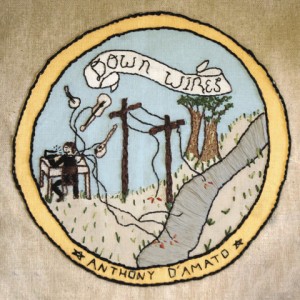 First, let's do some name dropping. Anthony D'Amato has performed onstage with Bruce Springsteen, and supported the likes of Jesse Malin, Marah and Matthew Ryan. To record Down Wires, he put together a backing band comprised of Canadian star Sam Roberts, Gabriel Gordon (from Natalie Merchant's band) and Mark Stepro (from Ben Kweller's band). He also, for good measure, throws in the fact it was written in a Princeton University dorm that was once home to F. Scott Fitzgerald.
But the truth is you don't need to know any of that. You don't need any celebrity endorsements or helping hands from authors 70 years dead. All you need to do is press play, and the quality of D'Amato's songwriting will become clear. He is steeped in the American roots tradition, the path well worn by Dylan and Young, then more latterly the likes of the Felice Brothers. It'd be easy to lump him in with a long list of current alt-country acts, but it would be a disservice. The attention to detail D'Amato shows is rare, and while still only 22, D'Amato already sounds like a master of his craft, his songs perfectly balanced, so that they just hum along easily.
He clearly takes a great pride in his lyrics, having used his time at Princeton to hone his craft with Pulitzer Prize winning poet Paul Muldoon, and it shows in the album highlights, My Father's Son and Holy War, the latter of which is deserving of Neil Young comparisons, and those are not to be thrown out lightly. This is already D'Amato's third album, but he should surely remain a well-kept New Jersey secret no more.