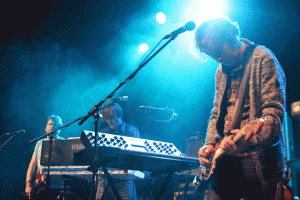 Yann Tiersen and his band don't like to make a huge entrance. They shuffle onstage in checked shirts, jeans and Converse, each not quite waving, but motioning, to the audience: completely unaffected by the roaring applause they elicit. Their casualness is proven insignificant when they launch into their first song, 'Dust Lane' which sets the tone for the rest of the evening.
This song (the title track for Tiersen's new album) opens slowly: heavy on the synth, it builds into a powerful piece that utilises every member of the band. 'Dusy Lane' has a haunting tone: from the female vocals at the beginning to the deep chant of the band as the song approaches its end. The air of eeriness continued throughout the set, especially in the vocals of 'Dark Stuff' and 'Palestine'.
The composer of the Amelie soundtrack's recent discography is a departure from the score for which he first became widely recognised. There isn't an accordion or piano in sight: they've been traded in for electric guitars, basses and synth machines – not really the sort of thing you'd don a beret, polo neck and loafers for. He moves away from the minimalist camp towards a different, but still characteristically Yann Tiersen, brand of jangly rock.
It's not until a quarter of the set has passed that Tiersen fully displays his masterful prowess as a musician. The tone of the show is taken down to a relaxing level with the delicate and melodious 'Amy' at which point Tiersen is left alone onstage, violin in hand. Beginning slowly, Tiersen continuously oscillates between soothing, long, elegant bowing and sharp fast melodies. An air of the mad composer begins to peer through as he closes his eyes, apparently overtaken by the music he creates.  His hair does the most dancing that the stage will see this evening.
An excursion in which an audience member asks about the origin of cider aside, the show becomes significantly less memorable as the following performances are mere shadows of what preceded. That is, until the final three songs. With 'Palestine', Tiersen and his band once again grab the attention of the audience with their crowd-silencing repetition of "P.A.L.E.S.T.I.N.E". This surge endures as the band end with Dust Lane's 'Forgive Me' and 'Esther' wavering ever so slightly at the encore.
Yann Tiersen might have changed his musical style, but still intact are his apparent talent, instrumental prowess and initially deceptive stage presence, making him a live act that's a joy to behold.
Words and Images: Sapphire Mason Brown