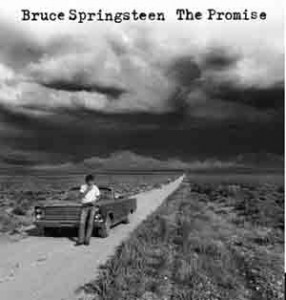 Here's a thing, The Promise is an album full of songs that didn't make it on to Springsteen's classic album 'Darkness On The Edge Of Town'. That fact isn't something that might get someone excited about a music release, you might imagine some lazy record producer tripping over some old tapes and thinking "Why the hell aren't we making money from these?". That's what I'd assume as well, but thankfully with the boss, it's a completely different story.
If you like good music *ahem*, you'll probably know the track 'Because The Night'. That song is included on this collection, and before hearing it here I was not aware that is was written by Springsteen and given to Patti Smith to record (they were both recording their respective albums in studios next door to eachother). That song is arguably Patti Smith's biggest hit, so now The Promise starts to look like a collection of discarded gems. Darkness On The Edge Of Town is an extraordinary album, which makes these some extraordinary cuts. You wonder why half of it was never released later in its own right.
There is plenty here for Springsteen fans to sink their teeth into. About half the double album could be called works in progress (though you wouldn't be able to tell if you didn't know), there are bits and pieces found in later Springsteen songs littered throughout the recordings. Some examples of which are; 'Candy's Boy', a very different early version of 'Candy's Room', 'Spanish Eyes' and 'Fire' are both brilliant but together, make up the song 'I'm on Fire' which shows up on Born In The USA (one of my favourite Springsteen tracks). 'Come On (Let's Go Out Tonight)' is 'The Working Life' with completely different lyrics.
That kind of insight into the processes of a songwriter like Springsteen is truly fascinating, but it's going to be lost on someone new to his work. If you're looking for a Christmas present for a Bruce fan, you really can't go far wrong with this, but if you're new to him then I suggest picking up the recently re-mastered version of Darkness On The Edge Of Town – the album these songs were originally recorded for.
Words: Joe Innes