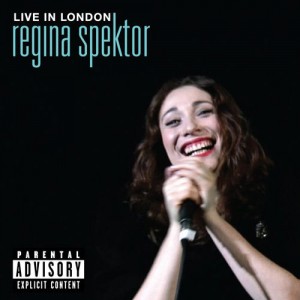 Throughout Regina Spektor Live In London you can hear one girl squealing madly at the start of every song. Like the audience do at the Xfactor, when they realise Olly Murs is about to murder Killing Me Softly or somesuch. A proper 'You-are-my-idol-and-I-want-you-to-notice-me-and-love-me' scream.
Recorded at her sold out Hammersmith Apollo show in December last year (when I was living DOWN THE ROAD and DID NOT GO), the album consists of 22 songs spanning Spektor's back catalogue and including 'Us', 'Fidelity', 'Eet', 'Apres Moi' and 'Ode to Divorce'. It opens with a flawless rendition of 'On the Radio' which left my spine a-tingling. Spektor's voice is strong and effortless, alternately fearless and vulnerable.
Having been slightly disappointed by Far – for all its quirkiness, for me it lacked the more genuinely off-beat undertones that make Regina's music something to really love, rather than shruggingly admire – it's a complete joy to find that, live, she's lost none of her punch. 'Laughing With' ("no one laughs at God in a hospital/no-one laughs at God in a morgue") is heartwrenchingly beautiful, the run of 'Hotel', 'Us' and 'Fidelity' is a crowd-pleasing triumph, 'Love You're a Whore' is unashamed country pop and new song 'Bobbing for Apples' is delightfully weird.
Had I been at the show, I think I'd have been tempted to join in with the Xfactor-style screams against my better judgement. Regina is my idol and this concert succinctly demonstrates just how remarkable she is.
Words: Lynn Roberts
---
Regina Spektor – Live In London is out now on Reprise Record. The release includes a 64-minute film directed by Adria Petty featuring performances and backstage footage.