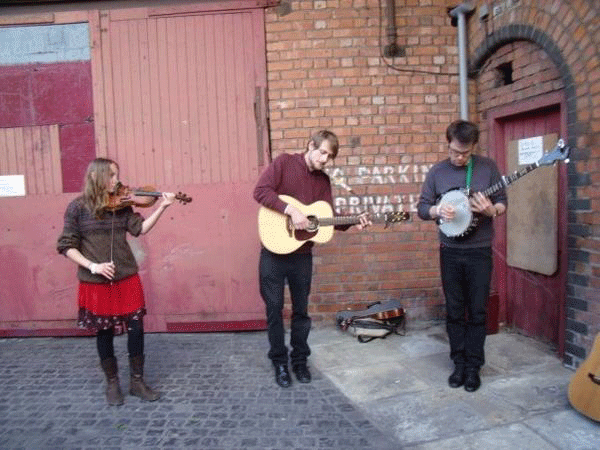 "Hi there, big empty room," announces Benedict Rubenstein, lead singer and guitarist (and banjo and mandolin player) of The Mariner's Children, as the seven-strong group carefully position themselves on The Cellar's relatively small stage. Indeed, the previous three bands of the night (Sonny Liston, We Thieves and Born Blonde) and their local fanbase had shuffled off into the bitter night, leaving, well… a big empty room.
A world away from their energetic, excitable performance at The Big Chill in August, or their relaxed, jovial set at the far more intimate In The Woods festival in September, the band tonight – at the end of their eight date joint tour with Tristram – looks deflated. This is not helped by a string of technical faults that sees the band struggling with sound and pausing halfway through songs while the venue's sound guy scrambles around on stage. "This is without a doubt the worst it's ever gone," Benedict remarks. The audience laughs politely. Those that don't know better have to take his word for it, but those that have had the pleasure of seeing them before are disappointed because they know that the romantically-veiled folk group's gently embracing yet emotionally visceral music deserves better circumstances than this.
Because of the technical glitches, there's no time for 'one final song', and The Mariner's Children end their tour against a backdrop of fans audibly lamenting the injustice of the band – talented enough to catch the attention of The Guardian's Paul Lester ­– ­ being subjected to such stifling conditions.  Here's hoping that the group have the luck they deserve at The Luminaire in London this week, where they're officially launching their EP, 'New Moore Island'.
Tristram follows. Oft mistaken as a solo act, the four-piece, fronted by Tristram Bawtree, is in many ways akin to The Mariner's Children. Soothing yet turbulent but always poetic, Tristram's dreamy songs speak of love lost, love found, and, on occasion, zombies, James Dean and fruit. Again proffering an impressive array of musical instruments among them (including a squeezebox), Tristram's set goes off without a hitch, but their slightly more down-tempo feel, coupled with The Mariner's Children's technical glitches, means that the end-of-tour show doesn't offer the elation found at the bands' previous gigs. A shame, as both acts are undoubtedly strong contenders for the next generation Mumford, Marling and Noah clique.
The Mariner's Children's EP, New Moore Island, is out now, as is Tristram's EP, Accidents and Artifice.
Words: Rachel England