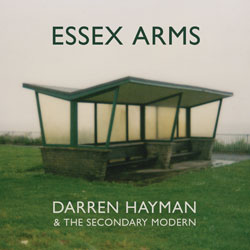 It was a struggle to write this review. Every now and then an album comes along that you just want to say "I love it, you'll love it, please go and buy it" and leave it at that, in case you accidentally misrepresent it and put someone off. But, y'know, I agreed to review it, so review it I must.
This is the second in a proposed trilogy of albums about Hayman's home county of Essex, the first of which was Pram Town. The idea of Essex Arms, says Darren "was to portray a countryside that, I think, is rarely portrayed. A lawless, unpretty place although I was endeavouring to show a sympathetic view of people very rarely sympathized with. It is essentially a love story. "
Love stories are what Hayman does best. Whether it's the love of a person, alcohol or cigarettes, the songs of Hefner (his previous band, the self-dubbed Britain's Largest Small Band) are dripping with the stuff. Essex Arms opens with a couple of corkers. 'Be Lonely' is a wonderful piece of tentative melancholia whereas 'Calling Out Your Name Again' is thing of joy, featuring Emmy the Great. It's full of poppy melody and deservedly the first single – check out the fantastic video.
Anyone with previous Hayman knowledge will be unsurprised at the lyrical skill he shows. Jampacked with references to Essex, and often very funny "you look like the lesbian from Brookside/ the one that everybody wants to look like", it's easy to get lost in the wistfully wonderful world that Hayman creates. This album is so good it almost makes me want to live in Essex.
Words: Emma Dalby Bowler