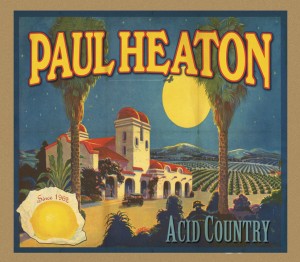 You know where you stand with a Paul Heaton album. There will be bitter boy-girl duets, radio-friendly hum-along tunes, references to drinking and a song name checking lots of places. While at times the return the themes can seem a little lazy, his third solo album Acid Country manages to somehow remain fresh despite delivering everything you would expect it to.
Even A Palm Tree is up there with The Beautiful South's A Little Time in the 'I'm not taking you back' stakes while The Ladder's Bottom Rung brings to mind The Housemartins' Worlds On Fire. House Party revisits the themes of self loathing seen in I Might Be Ugly and for fans who saw Heaton on his Pedals and Pumps tour, it is a song that loses a huge amount between stage and studio.
There is not a single track on the album that would not have fitted on a Housemartins or Beautiful South album, but rather than making Acid Country feel boring and old, it feels comfortable and safe. While this effort will please dedicated Heaton fans (I am one and I loved it), there is nothing here that will return him to the Top 40, let alone Top Ten, but you can't help but think this album was made for Paul Heaton and if anyone else likes it, that is a bonus for him.
Words: Nathan Walker