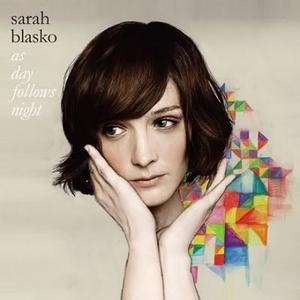 Sarah Blasko is quite a success in Australia, she already has two top ten albums and numerous award nominations down under, but she is relatively unknown in the UK. The first thing that drew me into Sarah Blasko is her voice. It's dreamy and effortless, slightly resembling fellow Aussie folk-pop singer Lisa Mitchell. The album contains some catchy songs and throughout Blasko's voice is beautiful and the songwriting melodious and strong.
The first track 'Down on Love' begins with a dreamy piano introduction and provides a gentle and perfect introduction to her voice. 'All I Want' is one of the stronger tracks from the album, its dreamy and infectious melody line make it an obvious choice for a single and a highlight of the album. 'Hold on My Heart' increases the pace of the record a little, the piano line is fast which adds to the childish feel of the song. 'We Won't Run' is another strong track, the heavy percussion along with Blasko's voice creates quite a treat. The next track 'Is My Baby Yours?' is the most annoying of the album, possibly beaten by the next track 'Sleeper Awake' in which the brass additions sound quite odd among the dreamy feel of the rest of the album. 'No Turning Back', another strong point of the album, retreats us back to the heavy piano and percussion found on 'We Won't Run'. The way many of the songs mix heavy percussion and piano to the contrast of Blasko's calming voice works very well on many of the tracks including this one. Unfortunately the annoyingness of some of the earlier tracks returns with 'Lost & Defeated' which sounds like something you would find on a car advert and 'Over and Over isn't much better with its glockenspiel sounding solo at the beginning. Thankfully they are saved by 'Night & Day' a beautiful end to the album. The song has lullaby elements and shows the beautiful of Blasko's melting voice better than any other track.
Overall, a bit of a hit and miss album. Some tracks are beautiful, and along with Blasko's voice create dreamy folk-pop perfection, 'We Won't Run' and 'All I Want' being instant favourites. Some tracks such as 'Is My Baby Yours?' though fail to do it for me and are unfortunately quite irritating. With quite a few UK dates lined up for November, it will be interesting to see how she is received in the UK.
Words: Anna Mellor