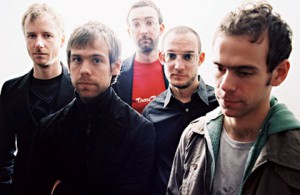 Ah, The National; that type of band who, through perseverance and solidity, capture people's hearts one by one, slowly but steadily, brewing their musical barley until it is ready for consumption to lift people's spirits and to quench the thirst of those in emotional turmoil. Yes, The National are the soul savers of the morally depressed, the psychologists of a mildly dysfunctional nation broken by the loss of love, everyday disappointments and disillusion.
The National performed on Saturday at the iTunes Festival with the assurance that their audience voted to receive their treatment. It is no coincidence that High Violet, their fifth project, has been in the top ten downloaded albums. It was only natural that there would be a slight turn in direction, captivating new fans on the way. Their songs old and new follow a recognisable formula wherever they go: they are ever-expanding anthems which encapsulate all frustration, sadness and despair, and morph into optimistic pictures of bright blue skies through a proper self-cleansing shake of grand finales. High Violet, however, pays further attention to refined orchestration and arrangements and this is visibly clear onstage through the incorporation of trumpet, trombone, violin, piano and vocal harmonies that feel warm and sweet like toffee.
They presented their latest album fully from the moment they stepped on stage, shedding shyness away and confident of the power their work inflicts over the listeners. It was not until this was done that they proceeded to intercalate tracks from Boxer or even of their first album, The National, still welcomed with loyal cheer and admiration. Vocalist Matt Berninger stroked this mutual understanding gently, offering some banter, walking through the crowd, and making the whole experience a national business. In our current climate of turmoil and uncertainty, whether public or private, it is definitely a good idea to pop by and drink a little more of this National brew.
Words: Liane Escorza