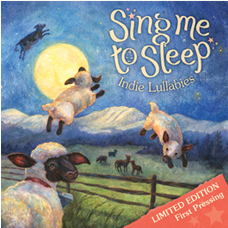 Sing Me To Sleep is the latest example of the recent trend for kid-friendly compilations, in the vein of 2006's Colours Are Brighter. It brings together various indie folk to rejig lullabies for toddlers with good taste – and their parents – in aid of the Valerie Fund, a charity which helps provide medical care for children with cancer and blood disorders.
The tracklist is a mixture of children's songs and more unexpected covers: Moon River rubs shoulders with the Smiths, for example. Some of the tracks are more successful than others, as would be expected with a project of this type; The Rest's version of 'Pure Imagination' from Charlie & The Chocolate Factory verges more on creepy than soothing. However, The Real Tuesday Weld's take on 60s satire 'Little Boxes' works better, turning it into a glitchy lilt with lovely harmonies.
There are moments of real beauty here, notably The Leisure Society's 'Inchworm',with its joyous mariachi-style brass (although it's perhaps more likely to cause dancing than sleep), and a gentle, acoustic cover of Kate Bush's 'Cloudbusting' by Neil Halstead,
Overall, this is a pretty great compilation. It never becomes overly twee and, while aimed at children, works on more than one level. Whether they are parents or not, adults will find much to enjoy. On top of that, all the  proceeds go to a very worthwhile, important cause which deserves support. Lovely tunes, a handy weapon for parents and it helps other people. You can't really go wrong.
Words: Lise Tannahill
Tracklisting
01. Asleep performed by STARS
02. Have You Forgotten performed by JENNY OWEN YOUNGS
03. Little Boxes performed by THE REAL TUESDAY WELD
04. Inchworm performed by THE LEISURE SOCIETY
05. Pure Imagination performed by THE REST
06. Dear Prudence performed by CASEY MECIJA (Ohbijou)
07. Dream A Little Dream Of Me performed by DALA
08. Can't Get It Out Of My Head performed by TELEKINESIS
09. Making Me Smile performed by DEAN & BRITTA
10. You And Your Sister performed by O+S
11. Moon River performed by TANYA DONELLY
12. Cloudbusting performed by NEIL HALSTEAD
13. The North Wind Doth Blow performed by SNOWBIRD
14. Rainbow Connection performed by TRESPASSERS WILLIAM