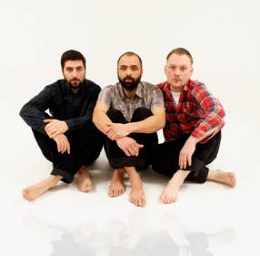 After the release of EP Black Refuge in 2005 Junip took a five year hiatus, but now they're back and promising both an EP and an album launch by the end of the year. Fronting the band is the familiar face of Jose Gonzales who found success as a solo artist with his debut album Veneers. Many may not realise, but he has been playing with friends Tobias Winterkorn and Elias Araya in Junip since the early 90's and now looks set to focus his attentions on the band. The EP released to whet appetites is called Rope and Summit, a compact piece ready to entice a new following.
The opening track of the same name starts off quietly and unassumingly. Slowly building up to a gentle speed it becomes rife with layers and texture with Jose's vocals acting as an accent for the instrumentation. Next up is 'Far Away', where we hear a jamming of instruments at the start before settling to one cohesive melody with lyrics murmuring over the top… "Stepped in front of a train just to feel alive again"… The third track on the EP, 'At the Doors' finds the band embracing a free natured spirit, softly playing music as it comes for over eight minutes and simply seeing where it takes them. The closing number on the EP entitled 'Loops' allows Jose's vocals to take centre stage. With a signature dreamy tone Jose hypnotises his listeners in usual seductive style.
This EP takes the best quality of each member and effortlessly blends it together to create something unique and original. Currently touring Europe, Junip look set to tempt fans and new listeners alike, ready for an eagerly anticipated album release later in the year.