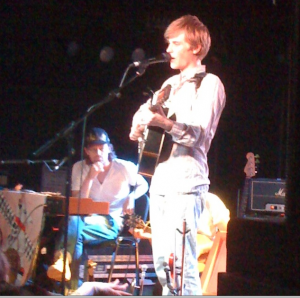 I first saw Johnny Flynn & The Sussex Wit in Liverpool on their club tour just before 'Been Listening' was released.  They played a tiny club, Zanzibar, I was stool on a chair about 15 feet from the band.  I'd been enraptured with 'A Larum' for almost a year at this point and as soon as I heard he'd be playing, I immediately got tickets.  The Liverpool gig was great.  So when I heard they'd be touring in support of the new album I looked up the dates and to my disappointment the Manchester date was just a day before my first year uni exams.  So I gave up hope of seeing them again in favour of exams.
But I've been lucky, Johnny had to put off several gigs early in the tour due to a bout of flu. The Manchester Academy gig was rescheduled to late June so I grabbed a late ticket. It was worth it.
Fresh from the Glastonbury BBC Introducing stage Dry the River returned as support, albeit in depleted numbers with only 3 of the 5 members making it, to play an impressive Fleet Fox-esque set.
By the time Flynn & The Wit take to the stage the place is packed as they open their set with a raucous rendition of Cold Bread.  The set mixes the old and new from both albums, playing live levels the playing field, removing the production differences between albums.  The stripped feel of a live performance overrides all and Flynn is left to showcase his raw talent and the craftsmanship of his songs.  Giving searing performances of; Kentucky Pill, Howl, The Box and Tickled Pink alike.   Mid set he gave a tongue in cheek apology for having to reschedule the gig saying: 'it's wouldn't have been good.' The crowd forgave him.
Switching to Banjo Flynn closed the set with Eyeless in Holloway leaving the audience baying for more.  An intimate version of The Water was met with hushed reverence as Johnny and James Mathé (keys) made a brave attempt at recreating the exquisite album version (featuring Laura Marling).  The show rounded out with a boisterous sing along of Leftovers.
The fresh songs from 'Been Listening' sat effortlessly by the older better known songs from 'A Larum' and Johnny Flynn didn't disappoint his audience even if he'd made them wait a few more weeks to see him.
Set list:
– Cold Bread
– Kentucky pill
– Lost and Found
– Brown Trout Blues
– Barnacled Warship
– The Box
– Churlish may
– Wrote and The Writ
– Howl
– Tickled Pink
– Been Listening
– Eyeless in Holloway
Encore:
– The Water
– Leftovers
Words: Matt Moss