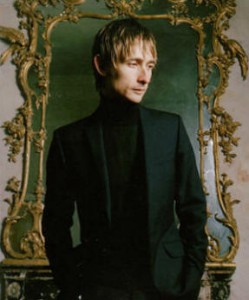 I don't know if this really counts as a live review, even though I watched it live. I suppose that is the only dilemma with the webcast, as everything else about it seems to be brilliant.
They've become something of a trend recently, and being a student a free gig you can watch from your bed whilst eating cereal very much appeals. Big names to webcast have been Arctic Monkeys and U2, my favourites have been The Indelicates and The National. However all have been eclipsed by a fantastic evening from The Divine Comedy.
Shortly after seven the Alela Diane Duo took to the stage. This was just Alela Diane and her father, which sounds like it would be uncomfortable, but it wasn't, it was wonderful. I had not encountered the music of Alela Diane before, but I will certainly be encountering it in the future. She played a beautiful and captivating set for just shy of an hour. This was the first webcast I know of to have included a support act, and most people weren't expecting it, but none were disappointed. In the unexpected absence of Neil Hannon for the first hour we were kept in more than adequate company as Alela wove delicate tales wrapped in soft, harmonic melodies accompanied with a frankly beautiful voice. I was so mesmerised that the cheese toastie that constituted my dinner for the evening had been left unattended and resolidifed as I stared at my laptop screen captured in some fine folk tunes.
However that set had to come to an end, and with it as per usual the audience were granted an interval. For those watching at home, we didn't really need an interval, we could go to the loo and get drinks when we wanted, and I personally didn't want to risk doing so then as I had no idea when Neil Hannon would be coming on, as no announcement was made to those of us at home. This was a rather dull half hour of the evening, but it was more than made up for by what followed.
Neil Hannon strolled onto the stage, he sat at the piano, and he launched into a fantastic solo rendition of Our Mutual Friend. My favourite song in the world at the top of the show, I didn't think it could get better, I thought surely it was all downhill from here. But Hannon rolled out all the hits starting with a rousing rendition of Tonight We Fly. Hits followed, as did a surprising few rarities such as Your Daddy's Car which I hadn't heard in far too long a time.
Highlights included If, I Like, Don't Look Down and a marvellous cover of MGMT's Time To Pretend, which has left me with the distinct impression that there is no song this man couldn't cover spectacularly. A personal favourite was a tangent in the middle of At The Indie Disco where he embarked on performing the intro to Blue Monday acapella.
Throughout the evening his banter was a delight as always, an effortlessly charming man. No other artist could get away with putting disclaimers at the beginning of his songs for shoddy playing, forgetting lyrics on a few occasions, and spending five minutes emptying a bag of old tissues, train tickets and various other tat and yet be so wonderfully entertaining at the same time. You find yourself almost wishing for a mistake if only to hear him comically recover.
At the end he received a standing ovation not only in Paris, but also in the living rooms of many following it on Twitter. He came on for an encore dressed in a rather splendid bowler hat to perform The Complete Banker, one of the few tracks to be performed from the new album, but also one of the best. Followed by a superb version of National Express. A song usually defined by it's big brass refrain and guitar solo, converted to Neil sat at a Grand Piano, and it was one of the best versions I've heard of it.
Surely that would be enough, but he came back for yet one more final encore where he performed Can You Stand On One Leg from the latest album Bang Goes The Knighthood. A song which to me sounds like a cross between Serge Gainsbourg and Morecambe And Wise. It was a perfectly jovial way to end the three and half hours I had spent watching. And for those of you who are curious he held that note for just as long as on the album.
Divine Comedy are without a shadow of a doubt my favourite band, and this webcast only served to further establish them as such. I have never managed to see them live yet, but with events like this I certainly will be making the extra effort to attend in future, even if it means going to fair Paree.
Words: Sam Schafer