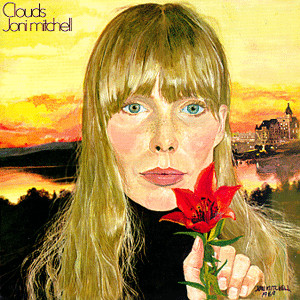 Clouds was Joni Mitchell's second album and won her a Grammy for best folk performance in 1970. I didn't know the album's biography before I came to write this piece because when you come to an artist with a large back catalogue you don't necessarily hear their songs, or buy their albums, in the order they were released. I was aware this was early Joni but that was all- and in a way I'm grateful because I think I fell for Clouds without prejudice. I didn't know that several of these songs had been recorded by other artists prior to Joni singing them herself (they are of course all written by Joni Mitchell), or that some people consider her earlier folk albums to be less accessible.
I think I return particularly to Clouds because it has a song for just about every mood or situation you could find yourself in on it. To have this album with you is to always have something that will comfort, console, quell apathy, inspire optimism and even anger. The record can certainly seem like quite a disparate collection of tunes but I like that range and I do think there is a common thread to be found- and to me it is to know yourself. The album is bound at either end with two remarkable songs, Tin Angel and Both Sides now, but all ten tracks are constantly selected on my i-pod, here are some of the reasons why:
Tin Angel: The refrain of Tin Angel is 'I found someone to love today'; that should be one of the happiest lyrics a person can write but when you first listen to this song it is all melancholy and melody; it is entirely in a minor key and a stark bare opening for an album. When you listen again- and again- you hear the hope in the final repetition of 'I found someone to love today'. This is a song about looking back and forward at love, by the end I always feel a little more peaceful and a little more hopeful.
Chelsea Morning: Chelsea Morning is Joni in Big Yellow Taxi mode, it's optimistic, it paints a picture for you of somewhere exciting, a place where you can't wait to start the day. For quite a long time I thought it was about Chelsea in London- but really of course it's about how wonderful everywhere is when you are in love.
I don't know where I stand: The song for when you don't know what to do about love. It can also be about not knowing what to do with yourself- or what to do next- if you want. It won't fix the uncertainty, or the mood that means you find yourself walking around for hours; but it will go walking with you and tell you other people have felt like these things too.
That Song about the midway: This song fascinates me because it has a lovely melody and it is slightly lower, which I prefer for Joni's voice. I still don't really know what it's about, is she following a man like a compass, or as the song goes on is it something more sinister. Great storytelling even if the denouement never comes to me.
Roses blue: This song is all unsettling melody and lyrics- and quite stunning. It grabs and takes hold of you, you can't listen quietly to this, or do anything else while it is on- it is by far the most dramatic song on the album and it sounds like it could have been released yesterday.
The Gallery: 'I gave you all my pretty years' I am sure other people contributing to Joni week are going to write about her being a voice that made sense in music for girls and women but never was it truer lyrically to me than in this song. I know Joni doesn't like to be called a poet so I will just say she is a great lyricist.
I think I Understand: This is quite a quiet song in all senses; it doesn't shout to be noticed amongst this collection. It's sweet though, you might like to listen to it on a long train journey when you are somewhere between being awake and asleep.
Songs to ageing children come: Kate Bush owes a great deal to Joni Mitchell's vocal here. Joni's voice is doubled and the guitar is extremely simple. The very phrase aging children never fails to move me.
The Fiddle and the Drum: This is a (sadly) timeless lyrical, melodic, acapella tune in the tradition of folk music. It must have been a sad song when Clouds was first released, when the Vietnam and Cold Wars were raging; it's even sadder now, now that the children or grandchildren of those wars are fighting more pointless battles, further away from home. It is a reasoned, measured argument against violence and war and a standard for the peace movement. It would be moving sung by anyone but sung by Joni Mitchell it never fails to make a lump in my throat, a crack in my voice, tears in my eyes.
Both Sides Now: One of the songs that people who aren't Joni Mitchell fans like, or know. Those songs are often the ones I don't enjoy on albums but in this case it's not so. I honestly didn't know this had been sung by anyone but Joni Mitchell or that she wasn't first to record it, I can't imagine many other people doing it such justice. This version seems very pure compared with the version she re- recorded recently and which featured on the Love Actually soundtrack which I remember so many people commenting on. It is the song equivalent of a bottomless glass of comfort to me.  I don't always have the answers but if Joni doesn't either then that's okay with me.
Words: Kim Deadman
Kim runs blog A Rose Beyond the Thames