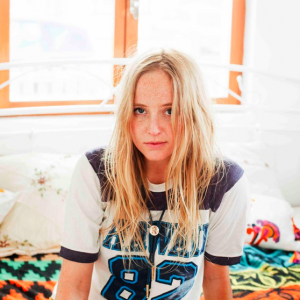 With Lissie's blonde hair, freckled face and guitar in hand, it would be easy to write her off as another "pretty folk-singer wanna-be"…. Of course once you listen to her music, that thought gets promptly blown to pieces. She has lived a proper blues singers life, what with being born on the banks of the Mississippi river, idolising her Barbour quartet singing grandfather and then singing herself in the coffee shop where she worked to get by. Not only that, according to her Myspace page she is influenced by pie and Cigarettes, come on, does it get more perfect than that?
The album sampler I listened to, Catching a Tiger unveils amazing Stevie Nicks style vocals with catchy guitar work. The first track, 'When I'm Alone' is full of smart, fast paced lyrics and passionate singing, which reveal Lissie's spunky nature. She isn't a sweet small town girl trying to play pretty songs- she's a smart cookie with a lot more going on than meets the eye. 'Loosen the Knot' is a bit more poppy and with that, ridiculously catchy, a lot of head bopping commenced with this one. 'In Sleep' shows off her intricate guitar work and writing skills. Lyrics such as, "In Sleep is the only place I get to see him, get to love him" jump out at you and remind you of your own dream man. 'Record Collector' uses the build up technique nicely, going quiet for dramatic vocals to then gain pace for a crescendo of sound. The final song on this sampler, 'Look Away' speaks for itself… "I will be found, I will be found"… I don't doubt you Lissie.
A great sampler which left me hungry for more, with gigs in the UK in May, I'm looking forward to the rest of the album and whatever else Lissie has up her sleeve.