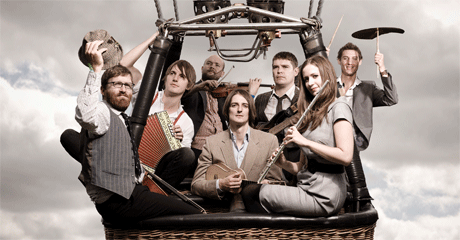 Some lovely news from the folk-a-sphere. The Leisure Society have been nominated for an Ivor Novello award for songwriting for the second time in two years.
'Save it for Someone Who Cares' from the band's debut album The Sleeper has been nominated in the snappily named Best Song Musically and Lyrically category. Last year 'The Last Of The Melting Snow' from the same album was nominated, but lost out to Elbow. Save it… is FFS's favourite song, though. We're putting money on this one.
The band, who were wonderful at End of the Road last year, have announced festival appearances at Wychwood, Port Eliot Festival, The Big Chill, The Great Escape, Meltdown and Glastonbury.
The Leisure Society are staying in a Tudor farmhouse in Kent recording their second album. If you're in the middle bit of the venn diagram of 'twitter users' and 'Leisure Society fans' we recommend following @leisuresociety and the band's Christian Hardy (@theboyhardy) for updates.