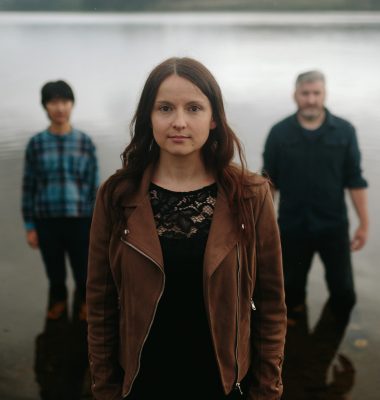 Memories are funny things, and while Snows of Yesteryear clearly understand the past, they also have a grasp on the present, creating an album that blends decades, dancing on and finding drama in surprising places. This is a most audacious release, both soft and understated, while filled with drama and heartbreak. It is a most self-assured beginning, an introduction unlike any other you are likely to hear this year.
Merging styles and colors, Kat Orr, David Mitchell and Yuuka Yamada-Garner refuse to be pigeon-holed into any particular framework. Most definitely working in the folk tradition they cover so much territory these Scots create the kind of music that exists outside of the time and tides. While album opener 'Wait By The Shore' opens with guitar and Orr's voice, this tale of a young man lost to a fishing disaster, builds and Orr's voice takes on stronger and richer qualities. Using traditional instruments, the band only hints at what lies ahead. 
Conveying anger in the face of loss, 'Counting Stars' weaves a blend of hurt that grows as the drums of producer Matt Foulds, double down creating an aural fury that drives home the song. A who's who of Scottish musicians only add to the feeling this is no ordinary band. Su-a Lee adds her cello to 'Danny's Waltz', while the jazz-influenced 'Love Is Like A Snare' features the clarinet of Samuel De Silva of Groovelvets, and trumpet from Bence Táborszky from the Budapest Jazz Orchestra.
The electric guitars that open 'Deer Across My Path' rage before settling into a sound not that far from Teenage Fanclub. The song, inspired by a deer that jumped across the road as Mitchell was on his way to a solitary retreat in outside Hawick in the Scottish Borders, became a song about returning to nature. Even more impressive is 'Last Thing You Remember', where the string arrangement offers suggestions of what lies ahead if one doesn't follow the path less taken and remains firmly inside their comfort zone rather than authentically living your life. 
Closing the collection, 'Rest And Be Thankful', the only song featuring just the three band members, tells of a place on the A83 where 18th century Scottish soldiers inscribed words on a stone encouraging travellers to stop and enjoy the view. Similarly, the song offers a point to sit back and think about what you have heard. Snows of Yesteryear is a band that exists both inside and outside the tradition. What they have created announces a band that will be heard from again, a band that not only needs to be acknowledged but revered.