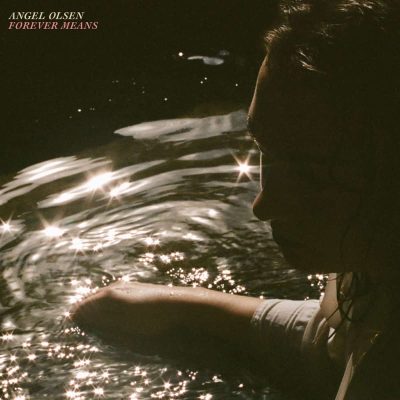 Sometimes things just don't fit. Angel Olsen had that problem with 'Nothing's Free', the first track from her new EP, Forever Means. Soulful in a way that the other songs on Big Time weren't, it became obvious it wouldn't make the cut for that album, yet it is by no means a lesser track. Coming from a different place, it's an exploration of Olsen, who she is and how she relates to those around her. "For me, when I wrote it, I was coming to terms with my identity and sexuality. I was opening up in a new way." Using organ, piano, bass, plus a sexy sax solo it essentially illustrates that there really anything she can't do.
Recorded during the sessions for Big Time, Olsen and co-producer Jonathan Wilson, found certain tracks didn't really feel like they belonged in that collection. However, they clearly deserved a home of their own. Forever Means almost needs to have an ellipsis after it, as Olsen examines the concept of "forever. "  She questions, "What are the things I'm seeking in a friendship or love, and how can forever be attainable if we're always changing?" One of the answers she comes up with is, "Maybe the secret to ongoing love is to embrace change as part of love itself." With little more than a guitar backing her up, Olsen is at her most vulnerable, yet her voice seems to grow louder and stronger with each successive phrase. 
Opening awkwardly the drums and keyboard on 'Time Bandits' seem to shift focus as Olsen begins singing. "But thieves like time bandits/ With hearts on our sleeves/ Who fly up from the past and present what is key/ To surviving the future and reversing the spell/ That we put on our people that dragged us all into hell," the track continues to build, getting stronger and stronger with each successive line.
Finally, 'Holding On' suggestively offers up memories of George Harrison with strings seemingly lifted from the Beatles' songbook. Fitting perfectly in a context that is largely drums and bass, they offer up a vibe similar to that found on 'Tomorrow Never Knows'. Offering a level of heaviness that had been seen until this point, it suggests regardless of the direction she chooses next, she is not going to be intimidated by anybody or anything. 
Regardless or her path going forward Angel Olsen isn't willing to necessarily do what people expect. She is ready to chart her own course. Forever Means she is not only calling the shots, but also doing it with renewed self-confidence.