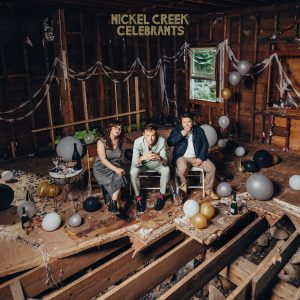 "My God it's good to see you/ Right here in the flesh."
With that Celebrants takes a look at what has gone on in the nine years since Nickel Creek released their last LP. Times and people change. Examining that goes straight to heart of their new release. For an acoustic collection, album opener 'Celebrants' offers an aural assault many an electric act seems unable to muster. Sean Watkins' guitar acoustically electrifies, while the handclaps of violinist Chris Thile and Sara Watkins sound as if they have been amped up to 11!
Time it seems tends to let us down, though. 'Strangers' opens with "It's been too long, stranger," yet time has not been kind. The bond between the two has been lost somewhere along the course of time. "As we drone on/ Past the break of dawn/ Hit rock bottom," it's clear that whatever help the two together has been lost over the course of too many years apart. The people we are no longer match the people we were. 
The playing is inspired throughout the 18 songs in this collection. Sean Watkins guitar strums and crackles with unrestrained energy. Sister Sara's banjo bursts forth with old fashioned energy and new-fangled ferocity. While the fiddle of Chris Thile is an outsized force of nature, hitting new heights as he bows and plucks his way up and down the violin's neck. As a group they are unrivaled proponents of natural sound.
Along the way the three musicians visit a number of areas, some tender and some not so much. 'Holding Pattern' revisits the time when the entire world was put on hold. An admission amidst the gentle guitars provides a ray of hope for those desperate times, "But I promise, Hon/I can make the coffee strong enough/to get us to the wine." Tender and timeless it hits a note that is as needed today as it was then. Amping things up considerably, "Where the Long Line Leads" illustrates the fallacy behind the promise of working for the hitmaking machine. Along the way so much is lost, and things end far quicker than imagined.
While 18 songs may be a lot to take in all at once, Nickel Creek have discovered that after nine years apart there is still much that have to share, both with each other and with the world at large. Celebrants is the sound of a band that still has much to share.