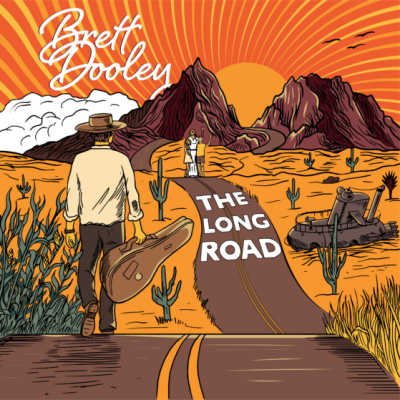 Brett Dooley might best be known in the Arizona scene as Whiskey Treats' frontman. No stranger to an energetic performance, Dooley and the crew have long-since left their mark in Tucson and beyond with their electrifying roots stylings. Now, he's breaking out with a solo release, leaning into his tried-and-true songwriting chops while dabbling in new production techniques to dust off some of the vintage. It's his most personal effort to date, as Dooley looks back on a life spent traveling with family and between vocations.
The Long Road features the same knack for picturesque lyricism and his pleasing, punchy vocals—so, fans of his revered Americana band, Whiskey Treats, will feel right at home with these standards set in place. That said, he's leaving plenty of room for the new while he's at it.
The album's first "road song" is its opener; 'Dirt Road' stomps forward with a steady-driving folk-rock bent, Dooley reflecting on times spent in a small town, looking towards his artistic future. It's classic Americana but pinned to its underbelly is something unsuspectingly synthetic.
Woven throughout The Long Road is electronic production—the first that Brett has dabbled in. Listeners get more of a taste of it as the album progresses, conceptually evolving in its themes as well as its production. 'Asleep in the Dream' is equal parts alt-country, with flavorful acoustic guitar licks and Dooley's iconic throaty vocals, and contemporary pop, flirting with synth-driven percussion that flourishes in fresh and unexpected ways throughout the track.
As the album progresses, Brett turns the dials up and down on these two seemingly disparate musical influences and finds the perfect balance, song-by-song, to make his mark. He strips it back into a smoky pub on the pedal steel-laden ballad, 'Sing Along', and saunters back into higher production on the slinking earworm, 'Ride the Demon'.
The titular 'Long Road' feels like a sequel to the album's opening track—Brett's yearning croon scraping a fine mix of roots-centric instrumentation and a beat percussion. It's fittingly equal parts new age and vintage, finding the folksinger in Dooley as the pop auteur peers around the corner. As much could be said of the album as a whole.
Words by: Jonathan Frahm