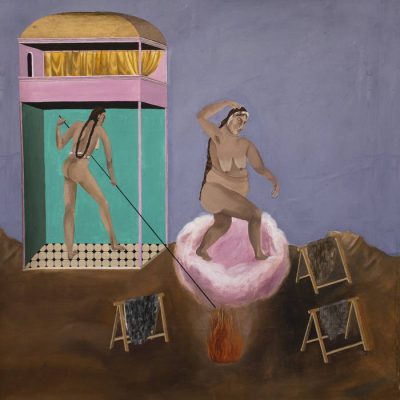 During the wild and scary days of January 2021, with everyone trapped and isolated from one another, Australian-born London-based songwriter MF Tomlinson suddenly realised how lonely he was and "how much I needed to make some music". From the ashes of those memories comes We Are Still Wild Horses, a record that Tomlinson describes as a "sister album" to his debut release, Strange Time. Slowly built over the forthcoming months from that initial thought process, cycling to the studio in the snow, testing vigorously, forming bubbles, following guidelines comes an album which feels like a landscape painting. One you can spend hours staring at, while the smaller details gradually reveal themselves to you. We Are Still Wild Horses is an album that rewards spending time with, allows the listener in on its secrets whilst leaving enough unknown for you to want to return to it again.
So, let's begin at the beginning. We Are Still Wild Horses only has four songs on it, spanning 40 minutes with the first three building to the cinematic and brooding 21-minute title track itself. But that is for later. We begin with 'A Cloud', where Tomlinson picks up from where Strange Time itself had ended, using the same tuning that closed that album. Here, Tomlinson is looking outwards, making observations of people in the street, looking for inspiration everywhere from his hotel room. All seems to be going well until he spots the titular cloud approaching, offering him an olive branch and a chance to discover what's really happening. Far away from "the midnight salon" where "the good old boys listen to Reggaeton" is a bleaker world. There's new horrors to be discovered with each sunrise. Eventually, Tomlinson decides to hide away and head inwards and the cloud disappears because "they scare easily you know".
Each of the four tracks is accompanied by the brilliant musicianship of those he calls "The MFs". The starting point was sessions with drummer Ed Grimshaw – "each drumbeat was like putting a point on a map" until the framework of something started to appear. Subsequently and safely, he introduced the bass playing of Ben Manning, Joe Connor's beautiful piano and the multi-instrumental talents of Allexa Neva, whether it be piccolo flute to saxophone. These players on more evident on second track 'Winter Time Blues', where what starts off as a simple folk song, one maybe inspired by the likes of Richard Thompson, soon turns into a different beast altogether. Swirling brass, an epic guitar solo, spooky synths accompany a journey where Tomlinson goes from "rolling my own oats" and "squeezing his juice" to realising he's deeply depressed and it's doing his head in because "after all, for chrissakes, I'm Australian".
If the previous track finds Tomlinson with "the blues down to his shoes", 'End of the Road' fights deeper to find some light in the darkness. Starting off amongst the Black Lives Matter and Extinction Rebellion protests in Trafalgar Square, Tomlinson is joined on the beautiful song by the wonderful backing vocals of Connie Chatwin, while building this world where protestors and friends are all gathered together, awaiting for "the small town sunset" to drag them off to whatever awaits on the other side. It's a song of hope and compassion, and ends at the End of the Road festival in Dorset, one of the last places Tomlinson travelled to before the pandemic set in. It's a breathtaking vision of the human spirit, one which never shies away from the horrors of the modern world, but lets them know that we're all in this together.
This is all building, layer upon layer, towards the main event. The closing track and title track, 'We Are Still Wild Horses', is about what happens when everything has been extinguished. Because of restrictions, Tomlinson was unable to gather the musicians involved in the studio at one time. What you hear unravelling over the next 21 minutes, from synth and flute to drums and percussion, as the song sweeps us in and out of consciousness, was painstakingly built over a series of one-on-one recording sessions. Tomlinson would then take these recordings and slowly piece them together. Considering the triumph that this song is, I'd say that those hours were not wasted.
"I worked on it for 24 hours straight on more than one occasion. By the time I was in the middle of it all I realised how difficult it was going to be – I had to keep going. I cried on many occasions – I guess a from a combination of exhaustion and emotion. When I had finished there was nothing left", Tomlinson says of the process. A song that begins with saying how much the past is in fashion again, before inviting the listener to join him in the circus big top where "the dancing horses" were sick of waiting and "where still wild horses" where the better you dress, the worse you can behave. The Fat Lady makes an appearance, alongside the lion tamers and acrobats, as each character explains the secrets of the universe beyond language. The circus at the end of the world.
Tomlinson is challenged by The Fat Lady to see if he is still a wild horse himself and free himself and return to the surface. When the vocals fade, we are left with a ten-minute instrumental exploration which remains dream-like and hopeful. It's an album that lives up to the challenge of the title, Tomlinson meeting this challenge by giving everything he had to the point of exhaustion. It's a journey that will be a lot easier for the listener to make than it was for the maker. Whatever Tomlinson does next will be worth following, let's hope that the world is in a better state whenever he picks up the pen again.