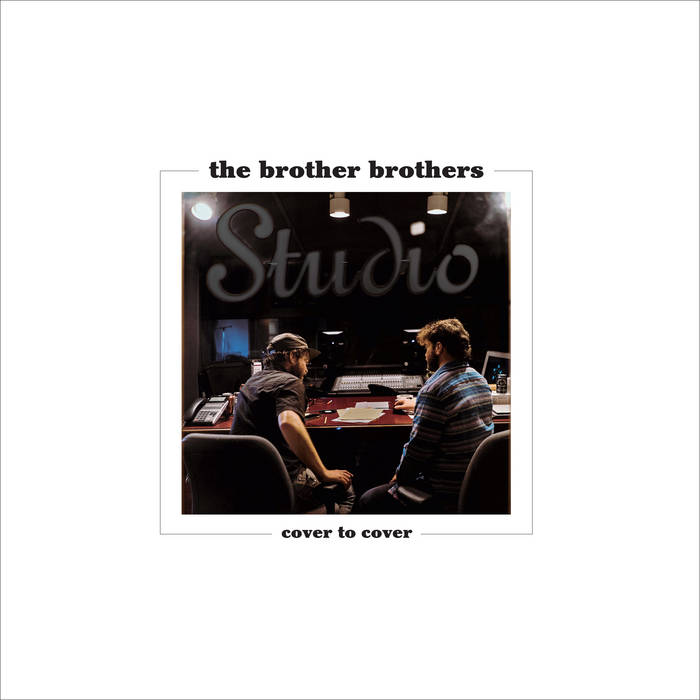 The Brother Brothers have grown into a notable force on the roots circuit, regaled for reflective songwriting and gorgeous harmonies that have drawn comparison to the best of 'em. As the Milk Carton Kids would jest about the dubious identifiability of Simon & Garfunkel in their rise through the ranks, Adam and David Moss wouldn't be remiss to crack a joke this side of Phil & Don. Their sibling harmonies offer an easy baseline from which to draw comparison, and it's warranted with how taut and trained they are. Like Sean & Sara Watkins, the Brother Brothers have earned their keep in their space as familial folk tradesmen of a certain veneration. So the question might stand, just as it did for the former: Why a covers album?
For Watkins Family Hour, leaning heavier into covers offered them room for crafty reinterpretation, stretching their heads around new arrangements of tunes that they love and rely on. It also offers space for collaboration with other consummate musicians, each chipping away at reinforcing another piece of the cover tune's armor. The process lends itself to a "family" aspect that leans beyond the obvious, too—more than they are siblings, even more than they have made a spiritual connection with the other hands at-play on their piece, these artists are making a special connection with their audience through these tunes, too, and expanding their roots while they're at it. Whether you look at it from the angle that these artists are applying themselves in new ways by re-interpreting as opposed to arranging originals, that they're building new rapports with their audience, or "just 'cause", the proof is in the pudding that the Brother Brothers' efforts on Cover to Cover were worth it.
The album starts with a victorious take on Tom T. Hall's classic tune, 'That's How I Got to Memphis'. Much of the original's swinging twang is traded out for calculated, harmonic folk that doesn't shuck its heart. The brothers bring all of its nostalgic "oomph" to proceedings, but filtered through their trademark style. Notably, the whirr of a sprightly electronic keyboard sets the tone for this upbeat, bittersweet number. It's a memorable opener, and one of this writer's personal favorites on the album. Of course, with its soft-spoken, folk-pop delivery, comparisons to the aforementioned Everly's will be as inevitable as they are warranted and positive.
The Brother Brothers travel on to offer a gorgeous take on Jackson Browne's 'These Days'. The pacing of this iconic melody remains the same, but is given a plaintive vocal paintjob by the brothers as subtle roots instrumentation unfurls around it. Gentle guitar tones proliferate and cascade throughout the arrangement so subtly that they would slip under the inattentive listener's radar. Long-time friend and collaborator Sarah Jarosz joins them on 'You Can Close Your Eyes', another warm, bittersweet tune that helps solidify "reflective" as this album's key tone identifier.
Just as they settle into this niche, though, they kick it up with a rockin' rendition of 'If You Ain't Got Love', putting on their best folk-rock hats while they liven the place up. It's easy to imagine this cut being a crowd-pleaser at their live shows. Other notable cuts include their sweet, string-driven rendition of The Beatles' 'I Will'. It fits like a glove with their trademark harmonies and is a memorable new take on one of McCartney's most understated, beautiful songs, making the most of its short runtime.
Rachael Price offers stunning backing vocals on the Brother Brothers' rendition of the classic crooner cut, 'I Get Along Without You Very Well' and Michaela Anne joins them with third harmonies for a textured Americana take on 'High Sierra'. The brothers take some time to rollick again with their rendition of 'Blue Virginia Blues' and wrap it all up with an effulgent rendition of Tom Waits' 'Flower's Grave'. As seen in their own 'On the Road Again', the brothers have a knack for capturing nostalgia in simple, beautiful melodies. They offer a smoother take on the song, bereft of Waits' trademark huskiness, and bring a different type of vintage tinge to it as a result.
The Brother Brothers shine on Cover to Cover. For these rising folk stars, it's a cool veer into renewing the familiar that should help to broaden their audience a bit. Respectful, invigorated nods to legacy songwriters set this collection a head above most in the category.
Words by: Jonathan Frahm