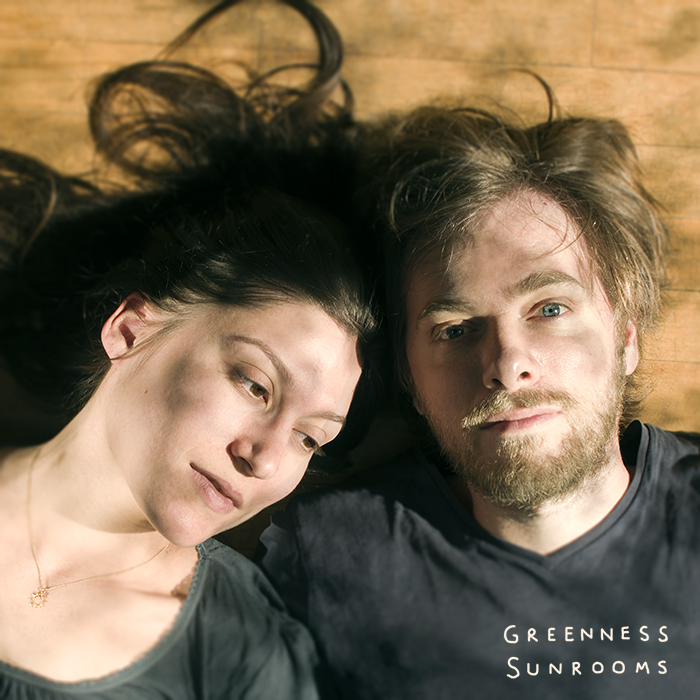 "Sunrooms (in part) follows our personal story travelling across France and the UK on a quest for a place to call home, trying to find the spark of everyday magic and hoping for human progress."
The words of singer Cess Frangi, one half of Anglo-French duo Greenness, when explaining the process and meaning behind their debut album. Created with musical partner Graham Pratt, Sunrooms is an exploration of sound and melody, one that straddles several different genres from the meditative opener 'Solace' to the folkish Building Memories and the electronica of 'Unfold'.
The album was written and recorded by the duo playing all instruments. These include the Zimbabwean Kalimba and the lap harp, making for unique sounds, ones that catch the listener off-guard and makes you sit up and notice them. It was recorded during lockdown in their Brighton home studio inspired by "the paradox of humanity in chaos while nature bloomed. They describe the title Sunrooms as "a place that provides shelter from the elements…a space to reflect, breathe and feel, so that we can go back out with more strength to embrace the weather"
On the sultry and funky 'Weatherman', Frangi implores that the she gets taken back "to the sunny days" while a bass heavy beat provides the backing. 'Sphinx' is a French language song celebrating the duo's love of both all things Egyptian and cats. 'Tea and Thunder' proves an unsettling break in the album, the song lurching into life slowly like the dawn itself, Frangi's vocals remind me in part of PJ Harvey where elsewhere on the album, she brings to mind someone like Cate Le Bon. The lead single 'Destroy/Enjoy' is a particular highlight – a playful track celebrating the rebirth of Earth, based on a dream Frangi had about the apocalypse.
All roads lead to closing track 'Firmament', pass the prettiness of 'Strange Spring' and the heavier pop of 'Home'. 'Firmament' is serene and effortlessly beautiful, a song about stargazing and oceans and is the perfect place to end things. If you're anything like me though, you'll be finding yourself reaching for the play button very shortly after. It's an album that manages to be both about home and wanderlust and the juxtaposition between the two. It's a wondrous discovery, and I hope that it's one that you'll discover too.