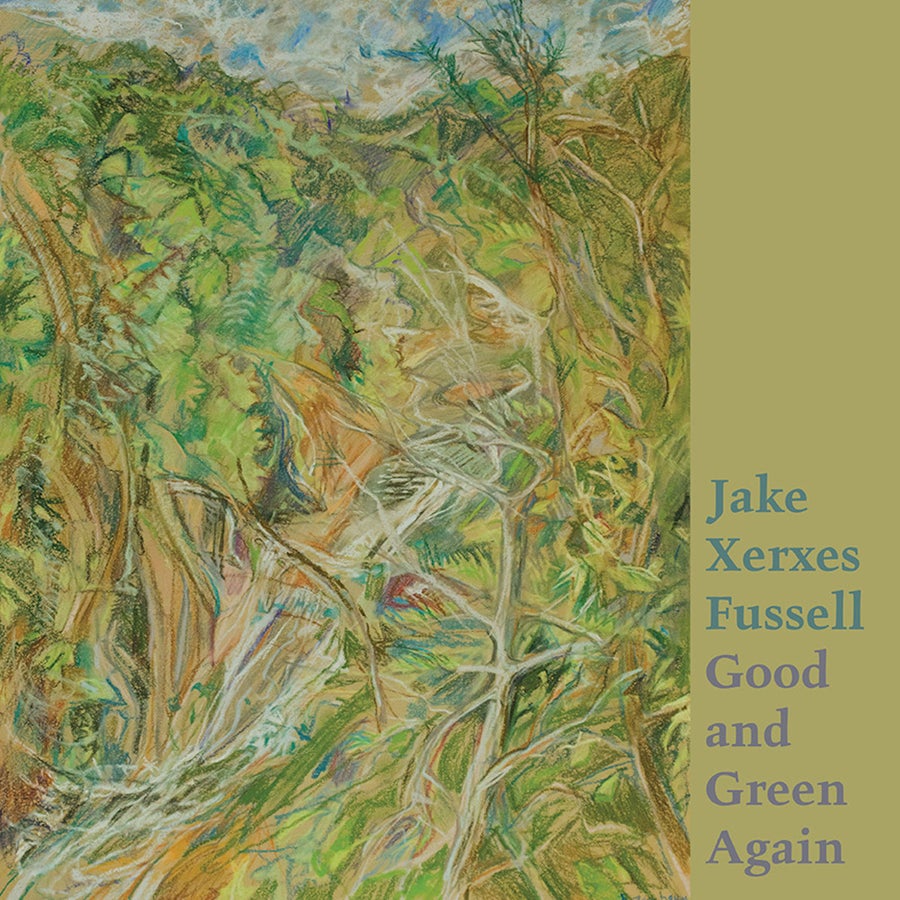 It's about time that the wider world was introduced to the wonder that is Jake Xerxes Fussell – a song collector raised in Columbus, Georgia and the son of a folklorist and curator is his own right, Fred C. Fussell. He has been learning these songs and traditions since he was a teenager and was brought to my attention firstly through his telling of The River St. John's, a 19th century fishmongers' cry and adapted by Fussell for his debut, self-titled album back in 2015. He has since toured supporting the likes of Wilco and Bill Callahan, which brings us to Good and Green Again, his fourth album but the first to include self-penned music and songs.
In the press release for this, he makes no apologies for this collection to sound sadder and slower than his previous efforts because, well, maybe the world we're currently living in is too. He's also rounded up a beautiful and talented team of collaborators and musicians, including Bonnie "Prince" Billy on backing harmonies on the poignant opener 'Love Farewell'. Previous albums have included production by William Tyler, but on Good and Green Again, the baton is handed to the immensely talented James Elkington – a man who has worked with the likes of Joan Shelley, Jeff Tweedy and Richard Thompson – and has shaped these songs and melodies into something substantial and pure, pulsing with human emotion and exploration. He leaves Fussell's voice front and centre and allows the instrumentation to lend soft, low-key support throughout the nine tracks.
Things have changed though and, even though Fussell's main collaborator remains "traditional and in the public domain", this also sees Fussell stretch himself into making four original pieces. Three of these are instrumentals – 'Frolic', 'In Florida' and 'What Did the Hen Duck Say to the Drake?' – and all of them pulse with an energy, though offering respite to the songs that surround them. The closing track is also written by Fussell and closes the collection on a high. 'Washington' is a laid-back protest song, making no apologies for the atrocities of America's past but understands too that such songs are the fabric on which the traditions he lends such great voice too thrived upon.
Talking of fabric, Fussell gained inspiration for 'Washington' from a hooked rug from the early 20th Century featuring Washington cross-legged on the floor with a white wig upon his head, surrounded by Mount Vernon, a horse and a cherry tree. Fussell isn't playing dress up here, he is steeped in the music that he presents to the world and chooses the pieces he adapts carefully. One of the highlights here is 'Rolling Mills Are Burning Down', a mantra that builds and threatens to run away from itself and the nine-minute centrepiece 'The Golden Willow Tree', which presents the only narrative song on the album and gives itself the space and time it needs to ebb and flow. It tells the tragic story of the scuttling of an enemy ship in exchange for wealth and glory. I won't give away the inevitable spoiler of the betrayal presented as the song swells to its climax.
Good and Green Again once again establishes Fussell as one of the finest exports of the American folk tradition. It's also lovely to see him begin to establish his own voice and ideas alongside those songs rescued from the corners of dusty rooms. May he long continue to search for the gold.