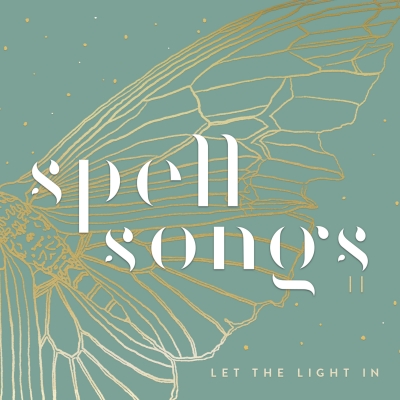 This is a remarkable and beautiful album, charming, moving, heartfelt and absolutely of the moment. Kick back and relax, let the wild world into your eyes, your voice, your heart. You are in safe hands here. Part praise, part blessing, part protest, this is deep musical magic, sound alchemy.
Let The Light In is a musical companion piece to both The Lost Words & The Lost Spells books by acclaimed author Robert Macfarlane and award-winning illustrator Jackie Morris; creating a listening experience that intersects music, literature, language and art, as a call to reawaken our love of the wild.
The Spell Songs ensemble features the multifaceted talents and collaborative genius of Karine Polwart, Julie Fowlis, Seckou Keita, Kris Drever, Rachel Newton, Beth Porter and Jim Molyneux — all renowned musicians in their own right. Together, their music blends a diverse array of sounds from instruments like the kora, electro-harp, cello, Indian harmonium and more, which are gorgeously layered with musical and linguistic influences spanning from Orkney to Senegal.
With the publication of The Lost Spells in 2020, Macfarlane and Morris gave voice and presence to yet more birds, animals and flora, and became a wonderful new source of material for the second album, Spell Songs II: Let The Light In, inspiring tracks such as 'Bramble', 'Thrift', 'Swallow' and 'Red Is Your Art'.
This is a truly collaborative work, a unique album that shines with a heartfelt passion, energy and sincerity, comprising 15 eclectic songs with folk, world, experimental, folk-rock, alt-country interwoven with little gifts of spoken voice, whispers, accents, dialects, native languages, birdsong, the bark of foxes, the soft sound of a moth's wing, even the impassioned voices of a children's climate strike. It is a truly magical listening experience.
The record gives you the space to think and take time to reflect on the importance of the natural world to our lived experience as human beings: to ask and answer questions, to observe, reflect, understand, create and share. The music encourages us to think about the absence, or threatened absence of things, to create a sense of personal responsibility with regard to protecting and cherishing the natural world.
An interesting element of the album's structure is the diverse range of voices and musical approaches to the material which make for an evolving and profound listening experience – a wonderful sonic Cornucopia. Always surprising and delightful but capable of sneaking in an emotional sucker punch to the unsuspecting listener. A musical smorgasbord of deftly handled approaches to Macfarlane's profound, beautiful and wise words.
The music is beautiful, visceral. The words are deeply affecting, each song a complete world in itself a spell, invocation and prayer. This album is atmospheric, emotional, evocative, expressive, haunting, heartfelt, stirring. One thing's for sure – make sure you put this on your Christmas list. It will be one of the most joyful and frequent listens of the year.