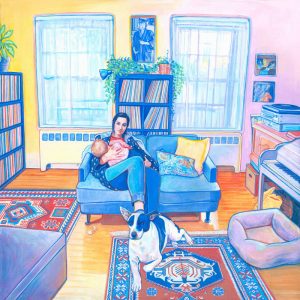 Following up 2019's breakthrough The Big Freeze, Stevenson's sixth studio album finds her facing up to a friend's unspecified but "absolutely unthinkable" trauma, against the backdrop of first-time motherhood and the wild emotions of a couple of years like no other, and is exactly the kind of emotional rollercoaster you might expect.
It sits most naturally as a country record, with a light rock edge and occasional bursts of the punk energy of long-time collaborator Jeff Rosenstock. While Stevenson's MO is dreamily listenable, those dynamic changes are a welcome addition to the palette to keep things fresh.
Opening track 'State' is the most striking example, its chorus staying just short of hardcore screaming powered by an anger Stevenson claims "keeps me alive" – before the song stops on a dime and plays out in a 30-second reflective acoustic reverie. 'Sandstorm' may not hit quite as hard but the album's standout track is another electric guitar-driven melodic rocker.
Experienced producer John Agnello wrings out every drop of power in those songs but equally brings the deft touch to elevate the likes of 'After Those Who Mean It', 'Mary' and 'Children's National Transfer' to moments of understated, spectral beauty. Perhaps the best of the quieter moments is 'Moving Cars', a beautiful, time-stands-still moment of mourning and moving on.
"Was I ever any good?" Stevenson asks on 'Sky Blue, Bad News'. Yes. Yes she was.