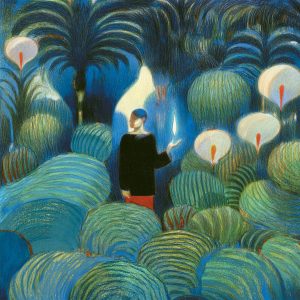 It's amazing what you can do in 10 days – it took just that long to record Flora by Frøkedal & Family. The Family part is something new, up until now it had just been Anne Lise Frøkedal. The new title reflects the communal nature of the new recording. Anne Lise was seeking a more collective nature and she found it in spades.
The new album is brimming with the ideas and passion of a band that is enjoying every minute of the recording process. Holding it all together is that voice, a golden Norwegian sun that never seems to set. The songs have a groove to them that is folk in nature but can manage to go off and find furrows that extend into a number of colors and shades that may seem off the beaten folk track, but always find their way back to the fold.
The band's passion for playing together is clearly on display. "We learned the songs by playing them live for the audience. It could be heartbreaking at times, but it was very honest. In the studio, we recorded live and had eye contact all the way," explains Frøkedal. There's an honesty to the sound that makes the music more alive.
The opening salvo, 'SØN' uses dreamy electric guitars to establish a groove that Frøkedal transcends to establish something she describes as a "a pop-protest (that) turns its back on the light and conventions in pursuit of a new truth." And when she get to the chorus, "I'm looking for the sunlight," her voice soars to new heights. It's a moment that is simply irresistible. Many more follow.
'Set Your Spirit Free' works just as well. Although starting with banjos, guitars come in and take the song slowly towards the rock end of the spectrum. Handled so carefully you don't even realise it's happening, the song builds and builds with the chorus, "Set your spirit free" continuing to move the song to new heights.
Comparisons have been made to Fleetwood Mac's Tusk because of the drumming on 'Shot-Put', yet the comparison seems a bit to facile. The song opens with a fiddle phrase before the drums enter. The combination of fiddle and drums continues apace creating a tension that moves the song in two different directions simultaneously.
Throughout these 10 songs there are continuous surprises, from the proto boogie opening to 'Treasure', to the fragile staccato sounds of 'Dark Woods'. This is a masterclass in how to combine parts in new ways to create folk that sounds unique and uniquely different. Flora doesn't turn folk on its ear, but Frøkedal & Family have found a way to create music that never seems to be constrained by the expected. It doesn't worry about rules, and along the way comes up being a most special album regardless of genre.