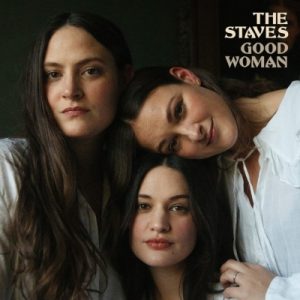 In the decade since self-releasing their debut EP, the Staves have built their brand around blood harmonies and beautiful melodies. Their reputation grew quickly, though more patience has been required when it has come to new music from the three sisters. Debut album Dead & Born & Grown is nearing nine years old, with the follow up If I Was appearing in 2015. Since then there has been the odd EP or standalone single and a collaboration with yMusic, but it has taken until now for the third Staves album to take form.
In between times, life has changed for Jessica, Emily and Camilla. In June 2018, their beloved mum, a key supporter of their music, died unexpectedly. A month later, Camilla – who had moved to the United States to live with her partner – went through a painful breakup to leave her alone in a foreign land. But 2019 began with brighter news – Emily and her partner were expecting their first child.
It is from these life-changing experiences that the Staves have drawn Good Woman. The pastoral folk of the early days has largely been put to one side – the sound unsuited to the emotions the sisters want to communicate now. "It is not a happy record," Jessica said. "But it's not timid. It's not apologetic. It's the most honest we've been. The end result is defiant."
The new edge is immediately apparent on the opening title track as the sister manipulate their voices over powerful beats and keyboards, rising to a soaring crescendo. 'Best Friend' floats over a restless piano and a driving rhythm, but the change in tone is even more apparent on the raw grunt of 'Careful, Kid' as they sing of "coming back from a five-year rebound".
Working with producer John Congleton (Sharon Van Etten, Angel Olsen, St Vincent), the Staves built on top of original demos, keeping a raw spirit of the song firmly in place as they added a patchwork of instrumentation, ambient noise and field recordings.
The acoustic bliss of 'Nothing's Gonna Happen' and 'Paralysed' harks back to earlier days but it is the sense of sonic adventure which makes Good Woman such an intriguing listen. With the trademark harmonies still at the forefront the sisters have created something at once reassuringly familiar yet excitingly new. This is the sound of artists stretching their imaginations and elevating themselves to a new level.