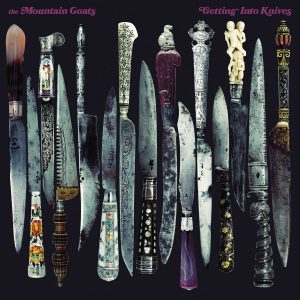 The Mountain Goats have produced 19 albums since the early 90's but astoundingly these last couple of years have been their busiest period, seeing them release three records in the short expanse of 18 months. It's testament to John Darnielle and co.'s supreme commitment to their craft, particularly when the threatening onset of COVID-19 has impacted the creativity levels of many.
Their latest, Getting Into Knives (if ever there was a time to indulge in such a dangerous new hobby, it would be now when the surrounding world is just so terrible), is also one of their best, possessing enough to satisfy old fans and curious newcomers. The North Carolina band took off for Memphis, Tennessee, to the iconic Sam Phillips Recording Studio, and it's perhaps why a keen rockabilly feel colours several songs on the album. They recorded it in one week during March, making the relative cohesion of the 13 tracks quite remarkable, alongside producer Matt-Ross Spang (Margo Price, Jason Isbell).
It's an addictive and engaging record, mixing genres and forms. It begins with the fast and catchy 'Corsican Mastiff Stride', an upbeat rockabilly track that can't fail to get one's feet moving. Darnielle's wonderful storytelling is as usual on show. 'Picture of My Dress' narrates the story of a divorcee travelling across the country taking pictures of her wedding dress in different locations, an empowering track of self-discovery. The title track details the actual reason Darnielle's narrator wants to get into knives is to enact revenge on a person for burning down their house many years ago.
Surreal imagery abounds. There's the self-explanatory mysterious 'The Great Gold Sheep'; that song is immediately followed by the even more whimsical and stomping 'Rat Queen' ("New dreams for the rat queen"). 'As Many Candles As Possible' was the lead single from the record and its energetic rhythm pounds its way to its conclusion, aided by an emphatic organ played by renowned organist Charles Hodges (a fact that pleased Darnielle greatly). A melancholic organ also features on the quiet 'Tidal Wave'.
A Mountain Goats album usually always has one aching and touching masterpiece that rises above the others ('Get Lonely' from 2006's album of the same name comes to mind) and perhaps 'The Last Place I Saw You Alive' comes closest here, a moving piano piece that ponders loss and grief. His voice is thoughtful and sad as he sighs lines like "It's only now and then you come to mind." The emotive and momentous 'Bell Swamp Connection' comes close too, Darnielle's voice resolute and stirring.
'Get Famous' is the most notable song on the album. Soulful horns colour the rhythm, floating above lyrics concerned with the fraught existence of a celebrity: "Cold grey world, all these obedient sheep / They act like they know you but they're all sound asleep / Waiting for something to wake up to / Some nice juicy bone to chew," he notes ruefully. The words sound even more pertinent in this time where cancel culture abounds but Darnielle's real target is the coldness of fame, where fans are fickle and status is fallible. It's also deeply ironic coming from Darnielle's band, a cult indie-folk outfit who have never cared for true stardom. Darnielle, Peter Hughes, Jon Wurster, and Matt Douglas are musician's musicians; long may their recording consistency continue even in these uncertain times.