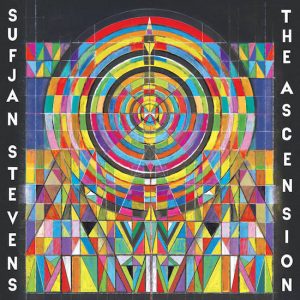 After years of sonic adventure and leftfield swerves, Sufjan Stevens' 2015 career highpoint Carrie & Lowell saw the restless songwriter drop anchor in the wake of his mother's death. It's barely-there arrangements cradled Stevens' bleak grief with remarkably life-affirming results. I'm sure I wasn't the only person to find myself unexpectedly in tears at the accompanying live shows.
On first listen, The Ascension feels like another handbrake turn; a swirl of bleeps, cascading drum machines and repeated choruses echoing 2010's restraint-shedding, sometimes shrill The Age Of Adz. Granted, guitars do feature but they're buried pretty deep under synth gloss and bass squelch, a symptom of Stevens relocating to the Catskill Mountains while his stringed instruments stayed in storage.
But spend time with The Ascension's 80-minutes and a different, albeit still technicolour, picture emerges. There's a defiance and a clarity in both music and lyrics, with a strident Stevens speaking directly without irony or mythology, deliberately using cliched titles like 'Die Happy' and 'Goodbye To All That'. Whether facing down the unravelling destruction in his homeland ('America') or sprinting from it ('Run Away With Me'), these are his most urgent songs to date, wrapped in confessional imagery.
The histrionics of some of Stevens' earlier records are tempered enough here for slightly subtler patterns – the pared-back electro pop-soul of 'Run Away With Me' a wonderful example. Later, 'Death Star"s pounding beats segue into heart-swelling hope on 'Goodbye To All That' in exhilarating fashion, Stevens' exclaiming: "love me and leave me intoxicated." Breathing room arrives at various stages, with Stevens' strained musings on 'Ativan' inhabiting a similar universe to The Flaming Lips' Wayne Coyne.
The Ascension definitely rewards perseverance as shown in its haunting title track, the LP's 14th song, which could've slid easily onto Carrie & Lowell, the singer confessing: "But now it strikes me far too late again/That I was asking far too much of everyone around me." Fitting for our troubled times, this album sees Sufjan Stevens as we need him today: angry but chastened, world-weary yet not-so quietly transcendent.
@petebate