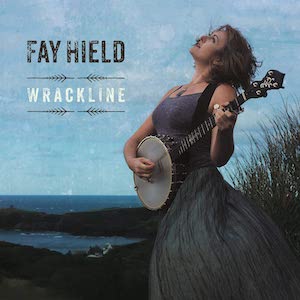 "We all search to connect with others – we are entranced by those we cannot connect with and find ways to tell their stories to explain our own." – Fay Hield
Wrackline is Fay Hield's first release since 2016's Old Adam. Any follow-up has been long overdue and this album proves to be a very welcome addition to the world, especially in the troubled times we're currently all living through. We are lucky that she's found the time to record this, in-between lecturing music at Sheffield University and being busy with a research project into how audiences and artists communicate.
It opens with plaintive acoustic guitar and Hield's yearning vocals on 'Hare Spell', a song about meeting the devil and taking the shapes of several animals. It's hypnotic in its delivery and is the perfect beginning to the journey. This is followed by one of the highlights of the set, the beautiful and catchy Jenny Wren. The album is filled with stories of otherworldly beings and is littered with characters from the animal kingdom.
Wrackline is also Hield's first foray into songwriting, not that you would know it from the quality of the songs on display here. She has said that she hoped that these songs would bring the listener some resemblance of sense and beauty through this time of insecurity. She has been sharing podcasts and blogs to explain some of the stories involved and I would urge anyone to seek these out if you want a fuller picture of the themes being told.
It's a given but throughout the twelve tracks, Hield's voice and delivery is nothing short of astonishing. She is accompanied on this album by the likes of Rob Harbron, Sam Sweeney, Ben Nicholls and Ewan MacPherson. The centrepiece of Wrackline is the seven-minute-plus 'Sir Launfal', where Hield tells her rendition of late 14th century Middle English tale written by Thomas Chestre. Sir Launfal was a steward in King Arthur's court but finishes his days as a social outcast.
Other peaks include a beautiful rendition of 'Cruel Mother', which is the perfect example of how stripped back most of the backing music is. There isn't a note wasted and every instrument is crystal clear in its delivery. As a singer she is occupying the space between the songs and the listener, "they have to make sense to me before I can pass them on. This album is about finding sense in the unknown, and exploring what that tells me about who we are and who I am in the process".
I just hope that it isn't another four years before we hear more music from one of the leading lights of the British folk scene. This will definitely be a contender in the album of the year lists come December, and it fully deserves to be so too. Go and listen now.