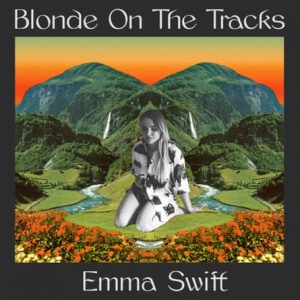 When you think of people who should do an album of Dylan covers, Emma Swift and her album Blonde on the Tracks probably isn't the first name that comes to mind. Yet, for her first American album, this is a bold, invigorating choice. The material ranges from this year's 'I Contain Multitudes' all the way back to material from Highway 61 Revisited, New Morning and, of course, Blood on the Tracks. What got her going to record these tracks was the loss of her muse. "I've never been a prolific writer, but this period was especially wordless. Sad, listless and desperate, I began singing Bob Dylan songs as a way to have something to wake up for." Clearly Mr. Zimmerman had the desired effect.
While Dylan's 'Queen Jane Approximately' is full of bile, Swift's version is a much softer affair. Her take is much more of a Marin County Byrdsian approach, more McGuinn than Dylan. Rather than spitting out the phrases there's a sense of subtlety to the proceedings, while the guitar solo by her current flame, Robyn Hitchcock is a thing of beauty.
Perhaps even better is what she does with 'I Contain Multitudes'. Recounting her reaction to the tune Swift explains, "I quickly became possessed. It's magnificent and heartbreaking, a love letter to words and art and music, to all that has been lost and all that might be redeemed. To me this song has become an obsession a mantra, a prayer." While the approaches are similar, Swift's version has a smoothness that brings out more of the duality in the lyrics. It's a fascinating take that never imitates Dylan rather it offers a different sense of clarity.
'Simple Twist of Fate' is more gentle than Dylan's version on Blood on the Tracks. Wistful, it brings out a sense of fragility that exists in both the words and music, making it all the more appealing. It takes a really brave artist to take on 'Sad Eyed Lady of the Lowlands'. Over 12 minutes the tale unfurls, and where Dylan seems to revel in the rough edges, Swift gives the tune a more exacting, yet fragile sheen.
Wilco's Patrick Sansone produced the album and handles a number of chores including some inspired, Kooperific organ playing, especially on 'The Man In Me'. From Planet Waves, 'Going Going Gone' is an interesting choice, with the original featuring the resurrection of The Band backing Dylan. Building from just an acoustic guitar Swift shows restraint in the way she phrases the lyrics. The way she sings the word "gone" is worthy of study by Dylan officianados.
Concluding with 'You're A Big Girl Now' and another stellar guitar solo by Hitchcock contributes to a most emotionally satisfying experience. Definitely not a total rework, Emma Swift's Blonde on the Tracks offers subtle shadings not clearly defined in the original recordings. Swift rearranges Dylan, in the process she offers up a series of takes keeping the canon alive for another generation.