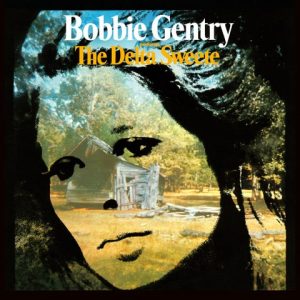 Bobbie Gentry has always seemed to be defined by the Ode To Billy Joe, yet her next album, The Delta Sweete, a little heard gem from the 60s, never found the audience it deserved. Which just goes to show how fickle the record buying public can be. Lacking a single to match the mystery of 'Billy Joe', interest began to wane. Country music didn't sell well up north and Bobbie Gentry was nothing if not country.
But with interest revived by Mercury Rev's cover version of the album last year, thr 1968 record gets an expanded reissue. The thing you notice first is how thin the original mixes are. The monophonic sound moves everything dead center and the vocals have an undue prominence. Besides being fuller, the new stereo-mix helps you realize just how good a musician Gentry was, she plays the majority of instruments, piano, guitar, banjo, bass and vibes. Those instruments she doesn't play feature a cast of the 60s best, James Burton on lead guitar, Hal Blaine on drums, not to mention Jimmie Haskell's string arrangements and Shorty Rodgers on horns.
From the first plucked guitar notes to the horns that quickly follow, there's a feeling of growing up in the swamps pervading 'Okolona River Bottom Band'. The air feels hot and steamy with only a few instruments to frame the piece. Gentry's slightly smoky voice fills the gaps, more with whispers than screams. She takes liberties lyrically playing with phrases, "See I told you so-ciety/ Green apple pie-ety/ Delta variety," The double dipping sends the song into areas one wouldn't expect from a country girl, yet Gentry is not your typical country girl – having studied philosophy at UCLA.
In this "sweete" of songs things get tied together in the most unexpected ways. Stringing together 'Okolona River Bottom Band' and 'Big Boss Man' with violins is a most unusual decision, yet Bobbie pulls it off without a hitch. Despite its polite beginning, a harmonica provides the musical bridge taking the song into the southern heat.  While others might snarl the lyrics, Gentry takes the opposite tack, losing all the instruments and barely singing, "You ain't so big/ You just tall/ That's all." Realising that she doesn't have the most powerful voice, she makes the dynamics work for her.
The seven demos included with this set help to present a fuller picture of just what Capitol got when they signed Bobbie Gentry in the first place. 'Mornin' Glory' is a revelation, whispers and sighs team with a rawer sound that pushes the edges in a most glorious way. Most of 'Sermon' is done without guitar accompaniment, exposing how much venom and bile could be carried by her sweet, tones before the rough edges were sanded off. While there was clearly no place for 'Feelin' Good' on the album, this demo speaks volumes, illustrating how far she could take this classic.
There is so much music on these 12 tracks it's hard to imagine it all came from the same person. From the links between tracks to the instrumental choices Bobbie Gentry proved to something of a musical visionary. The Delta Sweete proved to be the highlight of a musical career that ended far to quickly.