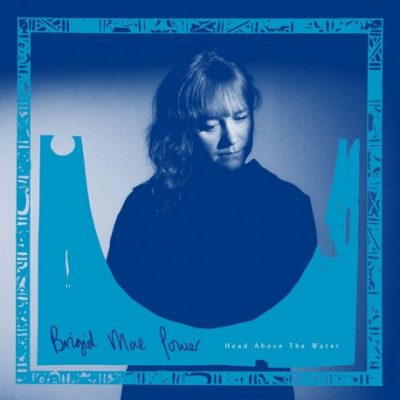 Brigid Mae Power's third album brings a change, or perhaps expansion, to her sound. The Irish singer-songwriter's first two records had the feeling of being recorded in a small room, her haunting voice soaring above blurry soundscapes comprised of little more than dirge-like guitar and watery piano. On Head Above the Water, aided by five guest musicians including co-producers Alesdair Roberts and Peter Broderick, she adds pedal steel, strings, organ, bouzouki, and percussion into the mix, leaning into a more traditional folk and country tinged sound. It's a warmer, fuller, and perhaps less intimate atmosphere, but still maintains the beauty and sublimity she has always expressed through her music.
The most vital element to Power's music, however, remains unchanged: her stunning vocals. Power's approach to melody has clearly been informed by generations of traditional singing, and while occasionally you can hear echoes of the likes of Sandy Denny, Jacqui McShee, and Maddy Prior in her singing, she has an undeniably singular voice. Her enchanting and often wordless Celtic-inflected melismas shimmer, lilt, and fly. Such a powerful voice draws you in, commanding you to listen closely to all she has to say.
Power's songs capture anecdotes and memories with a distinct poignancy while rarely imparting every detail, leaving the listener with plenty to ponder. "City lights or country skies at night / Which do you prefer?" asks a companion on opener 'On A City Night', but he continues to answer his own question, and we never get to hear her response. Later it's unclear who's speaking as we're given a hint of a backstory: "I can't quite believe / How easy it's been for you / To let go of everything / You previously knew". On 'Wearing Red That Eve', Power describes one of "my most important memories": while being harassed by a group of men in New York, she all of a sudden summons strength, and what "came next even frightened me". But she never tells us exactly what she did, leaving us only with the image of her "wearing red to the knee".
Power has been outspoken about her struggles with an abusive relationship and the patriarchal culture of Ireland, and in the past her songs have had echoes of both pain and defiance. These themes appear in more subtle ways on Head Above the Water, most often taking the form of reflections on self-preservation. "I was in a battle / I could neither win or lose / But time has passed / And I can freely move" she recalls on 'I Was Named After You'. On 'I Had To Keep My Circle Small', she explains that she needed "partiality" rather than "neutrality" to overcome an unknown hurdle, allowing her to "Enter the world again / With confidence / And power up to ten". Throughout the album, there's a sense of quiet but self-assured strength behind her words.
All in all, Head Above the Water is a lovely collection of songs. While musically it doesn't quite have the same otherworldliness of Power's previous releases, its warmer atmosphere will appeal to many listeners, and her vocals and songwriting are as captivating as ever. Hopefully this will be the release that brings Power's music to a wider audience.
Words by: Emma Bauchner