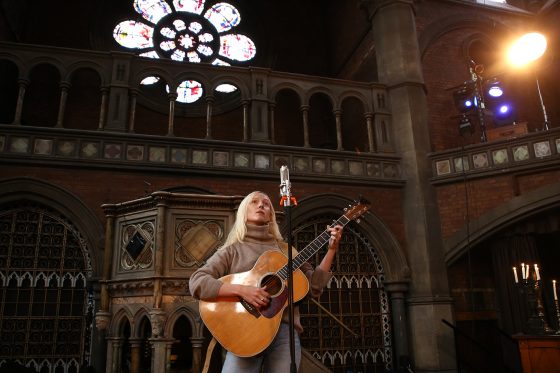 In an alternate universe, Laura Marling would have just wrapped up an extensive North American and UK tour during which we'd have got a first listen to music from her seventh album Song For Our Daughter, scheduled for an August release. Of course, none of that came to pass once the coronavirus pandemic struck and the tour was scrapped. But what Marling chose to do with her new album was telling. As the vast majority of artists planning spring releases pushed them back, wary of an uncertain market, Marling put out Song For Our Daughter early, wanting us to have, she said, "something that, at the very least, might entertain, and at its best, provide some sense of union".
It was one of many ways that Marling has stepped up as an artist in lockdown. Her guitar lessons on social media have been a wonderful service (even if some of us continue to fumble along as much as ever), and it was no surprise to see her joining the new trend of the online gig as artists do what they can to bring us live music.
It is a slightly odd pre-concert experience to be rearranging the cushions on your sofa rather than jostling for position in front of the stage, but you can't quibble with the prices at the bar, and you don't have to contend with some tall guy blocking the view. As the show starts, Marling begins with the opening suite from Once I Was An Eagle in all its devastating glory, while a camera slowly pans back and forth behind her, looking out on to the empty space of Islington's Union Chapel as if to make a point.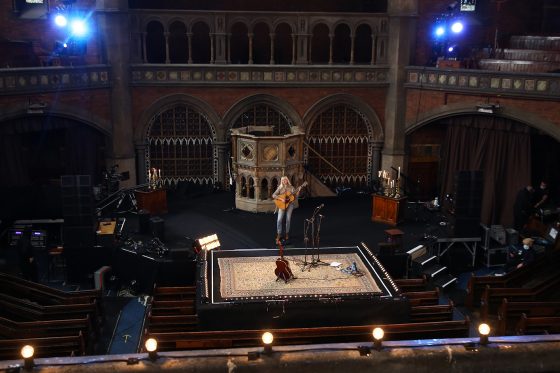 Under the circumstances, the gig could have been done from anywhere – a studio, a garage, maybe Marling's front room that her online guitar students have become so familiar with – but the magnificence of the Union Chapel lend the event some gravitas. The setting also comes with impeccable acoustics, perhaps enhanced further without a bothersome crowd to dampen the sound.
The atmosphere is what you make of it, but at least there's nobody having an annoyingly loud conversation near the back. The silence of the setting allows the songs to take centre stage, Marling's voice sounding better than ever as a number of old favourites – 'Tap At My Window', 'Goodbye England (Covered In Snow)' and live favourite 'Daisy' among them – are sprinkled between cuts from the new record.
There's perhaps everything to say, perhaps nothing, but it is noticeable Marling utters not a word between songs. The experience must be a deeply strange one for her too, playing in this famous old church to nobody more than a guitar tech and a sound guy. It is possibly hard to know where to start, so easier to not start at all. But that's okay – the majesty of this music is enough to captivate us, to take us away for an hour and lift our souls in these strange times. It is not meant as any criticism to say this cannot be the future of live music – we sincerely hope it is not – but right now, right here on our sofa, we'll take it gratefully.
Images: Joel Ryan