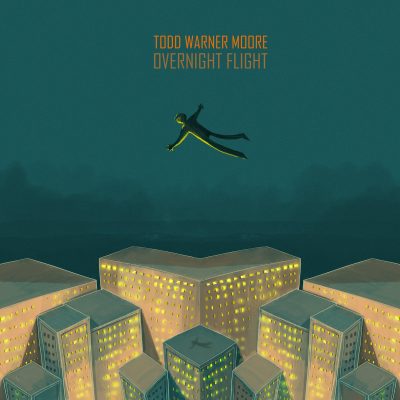 Only a few years back, Todd Warner Moore wrote his first set of lyrics for his 'Birdsong'. Since, the artist has turned out well over sixty tracks. The philosophical troubadour of Hong Kong's Lamma Island originally hails from across the pond, from Overland Park, Kansas. In the nine years since his move from one side of the prime meridian to the other, Moore's only honed-in on his poetic as well as his credo. The latest culmination of these facets can be garnered from his latest album, Overnight Flight.
Overnight Flight's primary basis is settled in a desire to summon a polychromatic representation of human emotion. While he handles each vocal performance gently, sometimes it's with a quiet tenacity. 'Masks (Fever Dreams)' will be a centerpoint through which many stray listeners are attracted, and for good reason. Musically, it plays out through the slight psychedelia of a western noir, electric guitar tones paving a story of yearning, of mourning. It's a reflection on the times of COVID-19, addressing the racism and xenophobia that many associate with the strain's Eastern origins.
Throughout, Moore remains wizened. The album's titular opening track is naturally lighter thematic fare, but seeks to heal with its sweet delivery. Never belying a saccharine note, however, the song's easygoing sway develops a palpably healing atmosphere. Moore is also given ample room to adjust into his upper lilt; especially vocally, it's one of his most present and impressive tracks to date. Likewise, then, with the folk scorchers to follow, in 'Mistakes' and 'Suns'.
Moore's composition work is dished out in notable aplomb throughout. Songs like the gypsy jazz of 'Paul's Way' feature downright impressive musical breaks, whereas tunes more akin to 'Big Blue Wave' showcase his penchant for developing textured soundscapes that drip with ethereal light. The album's two full instrumental tracks, 'Rite of Rain' and album closer 'Blossoming (The Other Side)', showcase the full breadth of Moore's growing talents per this avenue. Both dwell in an otherworldly dream; one more reflective and serene, the other touchingly celebratory.
Overnight Flight is a stunning new collection of songs from Todd Warner Moore. Not quite like any prior release does his latest seem to represent a turn in the rising artist's talents as a singer and songwriter, let alone in the brilliance of his instrumental compositions. Bringing it to life in full is Oliver Wagner, from Taiwan's SoundTheoryLab.
Words by: Jonathan Frahm