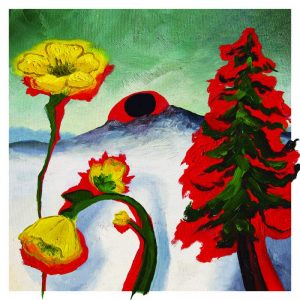 Brooklyn's Woods share heritage with the likes of Kevin Morby (their former bassist), Real Estate and Kurt Vile. But 11 albums into their career, Woods' pastel psych-pop/folk remains more under the radar (in the UK at least) than their contemporaries. The aptly-named Strange To Explain hints at why. Its accomplished, lovingly assembled 60s/70s-influences are admirable without banging the door down. That's not to say there aren't hidden treasures, but these do require patient and attentive listening to fully glisten.
For Woods' core of Jeremy Earl and Jarvis Taveniere the album offers optimism after the emotional upheaval of the duo's work with David Berman on his final Purple Mountains' LP before the former Silver Jews' leader took his own life.
Strange To Explain, recorded in coastal California before Berman's death, is resolutely bright and polished, layered with intricate rhythms, mellotron, keyboards and unfuzzy guitar. Some of these elements are a joy to uncover, including the pacing bass and drums of the hooky 'Fell So Hard', playful harmonies of 'Where Do You Go When You Dream' or the nautical shades of calypso lullaby 'Just Fell To Asleep', coloured by Earl's sweet wordless falsetto.
Yet, it could be telling that the most engaging of the album's 11 songs is seven-minute instrumental closer 'Weekend Wind', which oozes languid soul, the relaxed band riffing off each other, accompanied by vibraphone and mariachi horns. While no doubt a worthy summer soundtrack, it leaves you wondering what Strange To Explain might have been if Woods had cut loose from the get go.
@petebate