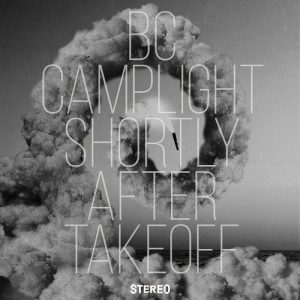 "I've had my indicator on since leaving Crewe/That explains the gestures in my rear-view," Brian Christinzio sighs over the doo-wop pop of 'Born To Cruise'.
It's one of many superbly pithy couplets on his fifth BC Camplight album, Shortly After Takeoff, which catalogues mental fragility and extreme bad luck, all with dark self-deprecation. "An examination of madness and loss," is how the Philadephian describes the final – and possibly most fully realised – of his 'Manchester trilogy'. But it's also one of the most uplifting, and hilarious, 34 minutes of music you're likely to hear this year.
Whether emoting his Die Hard 2 addiction on funk strummer 'Back To Work', visiting the Arndale Centre smoothie stand ('Ghosthunting'), or waking up in a banana suit in a Nando's car park ('Cemetery Lifestyle'), there are hooks and ear candy nuggets galore.
As always, the influences are unabashed – Beach Boys, 80s synth MOR, Grandaddy, the Super Furry Animals to name just a few. Yet, they are melded inventively; take the Velvet-Underground-meets-Visage 'I Wanna Be In the Mafia' which features an Oldham chippy and psychiatric hospital in its storyboard, Christinzio clinging to the fading hope that "somebody loves me".
There's even a faint hint of near-neighbours Elbow on 'Ghosthunting', which begins with the singer's surreal stand-up monologue about hallucinations of his recently departed dad, segueing into sweet falsetto and angelic strings which are then punctured by a nightmarish "ghosthunting" B-movie refrain.
Christinzio has refined his art through 2015's How To Die In The North and 2018's Deportation Blues, removing filters and leaving only a rocket straight to the listener's soul, albeit a rocket that's spiralling out of control. It's all killer and no filler, laid to rest with beautiful closing track 'Angelo' in which he intones his late father's name over a drum pulse.
Shortly After Takeoff is rooted in a woozy reality, in community and a sense of place. This works because Christinzio, to misquote Pete Wylie, has a heart as big as his adopted hometown. And it may be just what we need to loosen us up in these lock-downed times.
@petebate