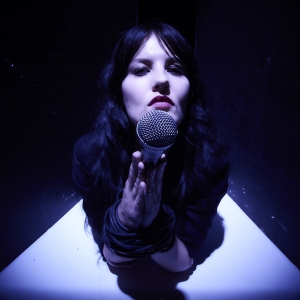 Rarely is a 'difficult second album' quite this difficult. Forced to regroup after the whirlwind around her debut release back in 2012 – which saw her play on Jools Holland and secure a top five single – was cut short by a freak spinal injury, Ren Harvieu is back on the scene with a glorious record that shows off her exceptional vocal talent and a musical style that rings of Regina Spektor.
My first exposure to Harvieu's sound came in the form of the official video for 'Yes Please' on YouTube and a user comment underneath telling us that 'a Bond theme was inevitable'. For once, I could immediately hear what they meant – there was something especially dark there, a tragedy lurking within the music that would lend itself well to the soundtrack of a film where, inevitably, someone you care about is going to get hurt.
Listening to the first couple of songs on Revel In The Drama shifted my perception about her music. Here was the sound of someone just happy to be alive and singing. The album opens with the lilting piano of 'Strange Thing' and proceeds to cycle through a range of moods within the three minutes of the song; the unashamed, joyous groove of Abba, the raw power of Bowie in his full pomp. 'Teenage Mascara' is more languid, her vocals drifting over the swirling synths and guitar slides, but uplifting all the same.
The record then takes a darker turn with the shuffling drums and sparse electric guitar of 'This Is How You Make Me Feel'. The production affords more space for Harvieu's vocals, a winning formula that continues throughout the rest of the album. The brightness of the first two tracks almost never again rears its head (with the exception of 'Little Raven') and you feel Harvieu is more comfortable the less that's going on around her. 'Spirit Me Away' is a particular standout, transporting us not only to the soundtrack of the similarly named Studio Ghibli classic but also recalling Bat For Lashes in her darker, most majestic moments.
Harvieu the lyricist is defiant in asserting her self-confidence. On the lilting 6-8 of 'Curves & Swerves', she makes a mockery of our airbrushed body image ideal: "Cuz I've got some curves and some swerves, what you gonna do about it? / And you've got some nerve to think you could ever live without it". The songs are the product of a collaboration with Romeo Stodar of the Magic Numbers and you experience the liberation this granted her, her getting back on her feet musically, in her lyrical themes. All the same, she can't completely shake off her feelings of doubt: With every bind that I break, I'm breaking too / what if the one thing you wanted just wanted to hurt you? she sings on 'This Is Our Love'.
The album closer, 'My Body She Is Alive', is a beautiful reflection of what the album says about Harvieu's identity and self-image. A heart wrenching piano and voice intro gradually builds up to a climactic refrain of the phrase 'here is your life' – Harvieu's reminder to herself both of her own fragility and the importance of not taking it for granted – before recoiling back into the piano and voice which feels, at once, both a safer place and one that is more exposed.