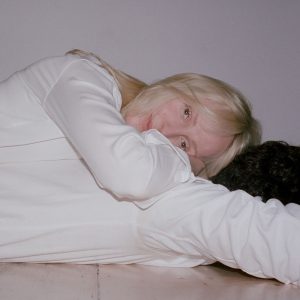 In these strange, unprecedented times, we reach for what we can rely on. So what better gift this Easter weekend than the early release of Laura Marling's seventh studio record. Where several other artists have postponed release dates, wary of putting out their music into such a confused landscape, Marling rightly deduces that this – alongside her Instagram guitar lessons – is just the sort of soothing treat we all need right now.
"In light of the change to all our circumstances, I saw no reason to hold back on something that, at the very least, might entertain, and at its best, provide some sense of union," Marling wrote. "It's strange to watch the facade of our daily lives dissolve away, leaving only the essentials; those we love and our worry for them. An album, stripped of everything that modernity and ownership does to it, is essentially a piece of me, and I'd like for you to have it."
Song For Our Daughter is written to an imaginary child, Marling's attempt to explain the world and all of its challenges to the next generation of women – "how would I guide my daughter, arm her and prepare her for life and all of its nuance?" Marling explains.
Having decided she was unhappy with the approach taken last time out on Semper Femina, Marling set out to write less confessional music, though there is still a sense of her own experience within the likes of 'Strange Girl', in which she sings "Cut off all relations because you couldn't stand your friends/Oh girl, please – don't bullshit me".
But do not think of Song For Our Daughter as some sort of stern lecture or some over-sentimental fluff. Amid the soul searching, Marling has once again broadened her musical ideas. Having her own home studio has allowed for more experimentation, while the experience of making the first LUMP record with Tunng's Mike Lindsay has clearly brought fresh impetus.
But the influence Marling herself mentions is doing a deep dive on post-Beatles McCartney, shaking off her pre-conceptions of "dyed hair and Converses" to discover Macca's mastery of melody. She calls the melancholic 'Blow by Blow' her "little homage" to McCartney, but the influence can also be felt in the languid Held Down, and closer 'For You'.
Having self-produced 2014's Short Movie and worked with Blake Mills on Semper Femina, Marling has returned to Ethan Johns for Song For Our Daughter, but takes a co-production credit after putting in many of the hard yards herself before recording began. Her work with LUMP encouraged her to expand the sound as she afforded Rob Moose free rein to add strings.
Marling refuses to stand still musically, casting each record with its own identity, but what never seems to waiver is the quality of her craft. As we all navigate such uncertain waters as these, that is a crumb of comfort, and we can only be grateful that she continues to share her gift.