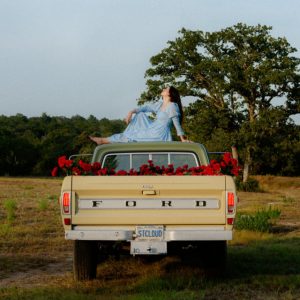 On the cover of her new album Katie Crutchfield is sitting on the roof of an old Ford truck, the bed filled with red roses and an Alabama license plate that reads STCLOUD. The shifts that have occurred on Waxahatchee's new album Saint Cloud have led her back to this creek by her childhood home in Alabama. Musically she started over knowing that sound honed on Out In The Storm, "wasn't going to be super-sustainable for me because it's so loud and abrasive. I needed to have that experience, but I also knew that I was going to need to take a sharp turn on the next one."
An even sharper turn was the decision to stop drinking, something she'd debated for over a decade. Discussed in a diary entry from when she was 17, "I talked about how I wanted to quit drinking, and that was so long ago." Now, at the age of thirty, she's been sober for over a year and a half. The spiritual soul searching has given her a deeper affection for Americana and country music.
'Oxbow', serves as the transition from the old digital world of Out In The Storm to her current incarnation. The synth track at the heart of the song along with her impassioned, "I want it all," establish a theme. The ringing guitars of 'Can't Do Much' open up into this brave, new, countrified Katie. While she refers to the track as being cut and dried, nothing is quite that simple as she sings, "Love you till the day I die. I guess it don't matter why." She acknowledges feeling, "almost like I'm frustrated that I'm having gushy feelings." 
Examining her own feelings over an acoustic guitar, piano, and some rocking lead work, 'Hell' delivers a jaunty take on Katie's discovery that at the end of the day, "I'll put you through hell." The self-examination continues on 'Arkadelphia', where the slower pace of the song fits the lyrics offering, "If I burn out like a light bulb, they'll say she wasn't meant for that life. They'll put it all in a capsule and save it for a dark night."
For a love song, 'Ruby Falls' offers a dose of reality about the duality existing in love, "Real love don't follow a straight line. It breaks your heart, it builds you a shrine." Closing the album with guitar and piano taking an almost funereal pace, 'St. Cloud', named after her father's Florida hometown, she's looking back at her own life asking, "Where do you go when your mind starts to lose its perfected shape? Virtuosic, idealistic, musing a fall from grace."
Self-examination brings up a lot of questions, yet answers may be in short supply. Each of us has to figure out those on our own. Waxahatchee's Saint Cloud offers a nuanced place for that journey to begin.