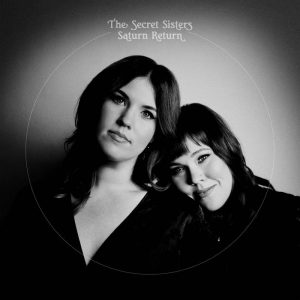 Approximately every twenty-nine and a half years Saturn returns to the location it was at when a person was born. The significance of this cannot be overstated because it also highlights a shift in a woman when she experiences an awakening about who she is as a person. For The Secret Sisters, Laura and Lydia Rogers, their Saturn Return details shifts both in who they are as people and in recording techniques, moving beyond close harmony singing to singing as individuals and writing all their own material.
They don't shy away from tough subjects, the initial single 'Cabin', comes from the perspective of a woman whose anger is never far from the surface after being raped, "He did not have permission, but he had his way. If I tell his secret they won't believe me anyway." Written during the United States Supreme Court confirmation hearings of Brett Cavanaugh, the song is a call to action for every man or woman who believes in equality.
'Late Bloomer' arrives on a bed of piano, recounting how people arrive at certain places when the time is right. "Keeping track and counting down again, I'm overdue. Watching everyone around get there before I do." The chorus brings home the point, "it doesn't matter when you bloom, it matters that you do."
Yet not everything has changed, Brandi Carlile along with Tim and Phil Hanseroth are still in charge of production. Their palette shifts to serve the needs of the song, 'Hand Over My Heart' feels like a song ripped from the late era Fleetwood Mac songbook, complete with synthesizer riffs, while the close harmonies of Laura and Lydia ring out, "Love someone is a choice to make, so walk me down the hardest road to take. You can have my hand and be my home, I swear that if I'm breathing you won't every be alone." Other songs like 'Fair' have little more than a single guitar.
In an album full of stellar songs, 'Healer In The Sky' is the perfect closing track, recalling the halcyon days of Sandy Denny. Starting with a gently strummed guitar, the song recounts a woman's final days in her battle with cancer, with strings building before everything fades away to just the voices of the two, before ending with a single voice singing the final, "healer in the sky." In an album filled with transcendent moments, this last moment is unforgettable.
Facing up to the obstacles and challenges in a world that often seems to be out of control, Saturn Returns shows us that The Secret Sisters have a handle on the modern world. The last words belong to them, "We need each other more than we ever have; the less competition and the more inclusiveness and understanding, the better."