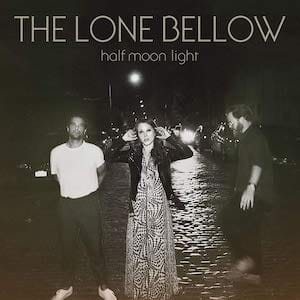 Connections are at the heart of what makes The Lone Bellow so special, and on Half Moon Light the bonds are everywhere. Opening the record, 'Intro' features Zach Williams' grandmother playing piano at the funeral of her husband of sixty-four years. This family connection reappears midway through and again at the end of Half Moon Light, establishing a mood that while tinged with sadness also encompasses a touch of the love that exists outside of time.
With the opening notes of 'I Can Feel You Dancing' the tone set is one incorporating both a recollection of feelings past along with a sense of how that reflects in the present.  Produced by the National's Aaron Dessner, piano and guitar interact with drums and muted horns creating a lush bed for the vocals of Williams, Kaene Donehey and Brian Elmquist.
The Caribbean beat, piano, and tuned percussion of 'Good Times' quickly end up being dominated by drums while 'Good Times' reflects a wealth of observations as the insistent chorus reminds, "Don't let the good times slip away." Williams' 'Wonder' is filled with gorgeous three-part harmonies, yet there is confusion at the core: "I'm writing you a letter I will never send, I need something to hold on to."
Elmquist's 'Wash It Clean' reflects his release in finally coming to terms with his father and their strained relationship in the last months before his death. It's one of those moments when the eventual release from a lilting yet insistent bed of guitar, banjo, piano and drums mixes with a sombre finality.
Kanene Donehey enters the spotlight on 'Just Enough To Get By', telling the tale of her mother who was just nineteen when she was raped and had to send away her baby, only to reconnect forty years later. Amidst the range of emotions, from anger to frustration and sadness is a call not to keep hiding those emotions but to let them out.
Another powerhouse moment for Donehey is on Elmquist's haunting 'Illegal Immigrant', where mother and child are separated at the U.S. Border.
Closing with 'Finale' (a portion of William's Grandmother singing and playing 'I Will Meet You At The End Of The Day') The Lone Bellow's Half Moon Light comes full circle. Singing and playing with this kind of sense of abandon, trusting in the production of Aaron Dessner, they have created a disc should stand the test of time because of its honesty and emotion.