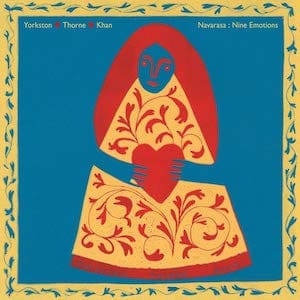 An admission to begin with: As someone who has only dipped in and out of James Yorkston's music over the years (despite being impressed by everything I've heard) this collaboration had totally passed me by until this moment. Navarasa: Nine Emotions marks the third outing for the trio of Yorkston, Suhail Yusuf Khan and double bassist Jon Thorne (a previous collaborator with Yorkston).
Each song on the cycle tackles a different emotion, beginning with sorrow in the form of 'Sukhe Phool' before Yorkston takes over on 'The Shearing's Not For You', sourced from the life of Aberdeen born traveller Jeannie Robertson and ticking off disgust along the way. "And it's here I'm gonna stay, my bonnie lassie-o" Yorkston croons in his Fife accent whilst Khan and Thorne lend light instrumental colouring in the background
Khan, one of Forbes India's 30 under 30 to watch in 2014, is an eighth generation sarangi player, and has also performed with the likes of Hannah James and Talvin Singh, as well as performing at the Celtic Connections festival. He brings a majesty to the proceedings, being a master of his craft who is willing to push the boundaries along the way also.
Robert Burns gets his moment here too and the three tackle 'Westlin' Winds', made famous by Dick Gaughan in the most beautiful and harmonic of ways. This covers the emotion of surprise or wonder for those keeping score at home. It's sung by Khan in Purbi, which is a dialect of old Hindi, before Yorkston takes over half way through to sing it through in its more traditional setting.
'Twa Brothers' features a twenty second burst of bols which is mnemonic rhythm syllable vocal composition and then only features Yorkston singing this Anglo-Scottish traditional ballad with the continued tabla bols. This is something they explored on their previous album when they presented their version of 'Little Black Buzzer' by Ivor Cutler.
This motley combination of different worlds and soundscapes collide in wildly imaginative ways. The sorrow of the first song is matched by mine thinking that this album won't reach the audience that it richly deserves to do so.